If you know me, you know that I love to bake and decorate cakes.  Because of this hobby I usually am left with odd pieces of cakes.  Most of the time I end up making cake balls with these pieces, but this time I wanted to try something different.  Since my mom doesn't understand English, I feel safe saying this.  Once, a long long time ago, she made a beautiful cake.  As she was moving it from the kitchen table to the fridge, the cake just collapsed.  It was a mess.  She took all the pieces and just threw everything inside of a Tupperware container.  This was the BEST cake she ever made. It had no shape or form, but it was delicious. I made this dessert inspired by this memory.  We will never forget that cake mom.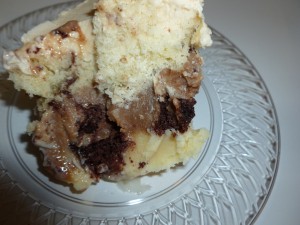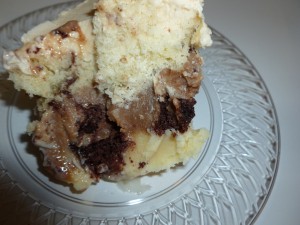 You will need:
Left over cake pieces (for this particular one I had chocolate cake and yellow cake -cuts from the top )
For the cream:
1 can sweetened condensed milk
same measure of milk
100 ml of coconut milk (if you don't like coconut milk, just substitute this with milk)
2 egg yolks
1 T corn startch (dissolved in a little bit of water)
In a sauce pan (medium high heat), add sweetened condensed milk, milk, coconut milk and yolks.  Mix it until bubbly. Then add the dissolved corn starch. Cook until this mixture thickens up.
Divide this into two.  In on the the creams add a hand full of chocolate chips, while cream still warm, mix it to melt.
In a container, layer the creams and cakes like this: white cream, chocolate cake pieces, chocolate cream and white cake pieces. Refrigerate while you make the top.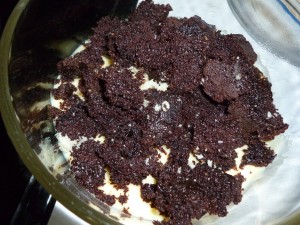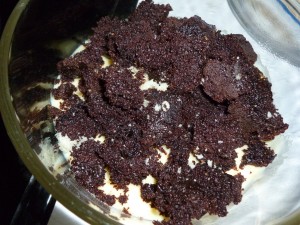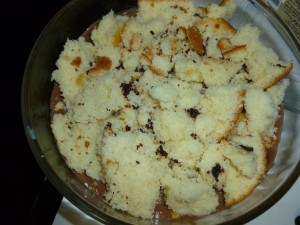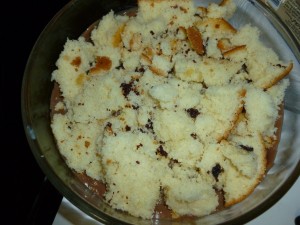 For the top cream:
2 egg whites
4 T sugar
1 can of table cream
In a mixer, beat the whites until fluffy adding the sugar slowly.  When you have soft to hard peaks, mix in gently the table cream.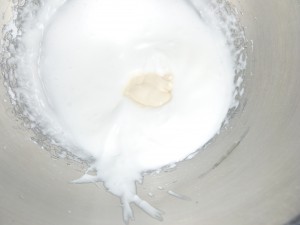 Add this to the top of reserved dessert.  Refrigerate.  You can decorate the top with chocolate or fresh fruits.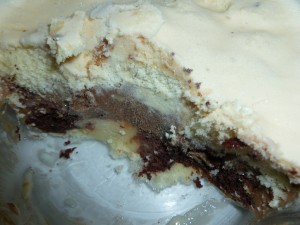 I also found out that this is really good if you freeze it for a couple of hours before serving it.  I put mine in the freezer overnight, then took it out about 1 hour before serving. It was nice, cold and delicious! Enjoy!