COCADA DE FORNO (BAKED COCONUT)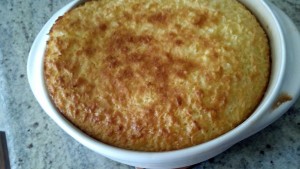 I found this recipe while looking through some old cookbooks I have. It was delicious. Once baked the botton layer will be almost like a thick custard topped with the sweet coconut flakes. YUM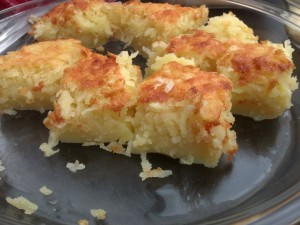 8 Tbs butter (1/2 cup), at room temperature
1/2 cup granulated sugar
3 eggs
1/3 cup coconut milk
1/3 cup sweetened, condensed milk
1 + 1/2 cups grated coconut
2 Tbs all-purpose flour, sifted
Heat the oven to 350F. Lightly grease baking dish with butter or cooking spray.
Place the butter and the sugar in the bowl of an electric mixer fitted with the paddle attachment, and beat them together at medium speed until creamy, about 5 minutes.  Add the eggs, one at a time, and continue to mix.  Scrape the sides of the bowl after each addition.
Add the coconut milk, the condensed milk,  continue to mix until well blended (about one more minute).  Add the coconut and mix until incorporated.   Fold the flour with a rubber spatula, and spread the batter into the prepared baking dish.
Bake in the 350 F oven until the top looks golden brown, the edges are set, but the center is slightly jiggly, about 20 minutes (or if you prefer a firmer consistency, bake until set, 30 to 35 minutes). Remove it from the oven and let it rest for 10 minutes.
We served with a side of passion fruit mousse. Delicious!