If you receive the Sunday paper, yesterday you most likely got a $1/3 coupon for Libby's vegetables . This means that you can get 3 cans of vegetables for FREE at Maceys!!!  Since I signed up for 5 copies of the Sunday paper, that means I get 15 cans of vegetables for FREE! Isn't that sweet?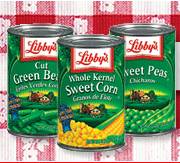 Thanks Savvyshopperdeals.com! Check them out, they also have a link for a printable coupon $1/3 cans of Libby's from redplum! 
Love Freebies!
If you have questions about signing for the Daily Herald, Salt Lake Tribune or Deserets News, contact me.  I can get you an exclusive discount!