What to say about Brasilian hot dogs… they are amazing!  That is the word. Just a bit different than American hot dogs, but delicious just the same.  There are many places in Brasil where you find hot dog stands, and they all offer many options of toppings.  However there are 2 kinds that I really like and every time we go to Brasil they are a MUST.  One of them is a hotdog that has shredded chicken and mayo. This is pressed and served hot.  Delicious, but it will be a recipe for another day. Today I want to share the recipe for what they call Passaporte.  It was given to me by my sister and it is always a crowd favorite.
For Brasilian Passaporte Hot dogs you will need:
Corn (fresh or canned)
Peas
Diced tomatoes mixed with a little bit of mayo
Potato sticks (batata palha)
Parmesan Cheese
Ground beef (recipe at the end of the post)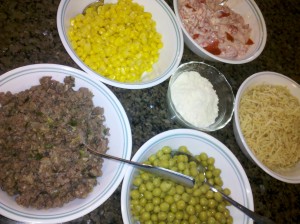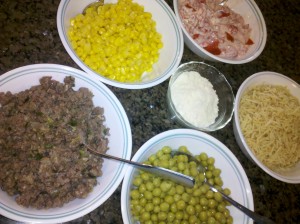 Needless to say you will need a bigger hot dog bun.  I usually find the hoagie rolls work very well.  I find them at my local grocery store, or you could make your own buns.
Cook the hot dog (boil and then grill them) and assemble the meal!
Bun, grilled hot dog, corn, peas, ground beef, tomato mix, potato and Parmesan cheese.
You can serve mayo, ketchup and mustard on the side.  This is very good!  YUM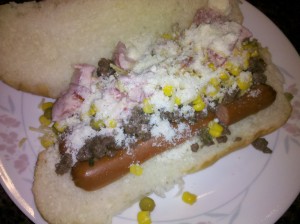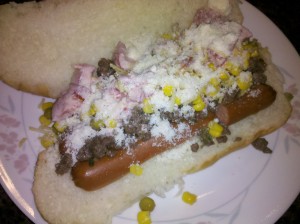 Ps: For the ground beef I usually fry about 1/4 of diced onion with 2 gloves of garlic in 2 T of oil. When translucent add about 1 lb of ground beef and cook.  Add salt and pepper to taste.  I also like a bit of cut green onions on top. YUM