Posted by Alessandra | Under
Brazilian Recipes
,
Desserts
Thursday Jan 5, 2012
This is a lemony loaf cake that would be great to serve for breakfast or dessert paired with fresh fruits and whipped cream. Yum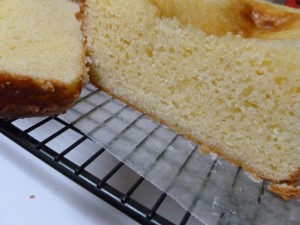 1/3 c sour cream
¼ c cream
2 T lemon juice *
1 ½ c flour
1 t baking powder
½ t salt
4 eggs
Zest of 1 lemon (big or 2 small)
1 ½ c sugar
4 T butter
Mix sour cream, cream and lemon juice- set aside
Mix flour and baking powder- set aside
Beat, salt, eggs, zest, sugar then add ½ of sour cream mix, ½
of flour mix, ½ of sour cream mix, melted butter and end on the last ½ of flour
mix.
Pour into prepared pan. Bake for about 30-35 minutes or
until tooth pick comes out clean.
Pour half of following liquid on top of warm cake when out
of oven. Turn cake and drizzle the rest.
2 T sugar
3 T water
4 T lemon juice
½ c powder sugar
Warm the water and sugar until sugar dissolves.  Take off heat and add the rest of
ingredients.
* If you want to taste like limão (lime), just swtich lemon juice for lime juice. It works very well!