The August 2011 Daring Bakers' Challenge was hosted by Lisa of Parsley, Sage, Desserts and Line Drive and Mandy of What the Fruitcake?!.  These two sugar mavens challenged us to make sinfully delicious candies!  This was a special challenge for the Daring Bakers because the good folks at http://www.chocoley.com offered an amazing prize for the winner of the most creative and delicious candy!
For this month's challenge, I decided to make some passion fruit bombons, passion fruit truffles and dove dark chocolate bombons!  I enjoyed playing with chocolate and learning the technique used to make the filled chocolates painted with cocoa butter.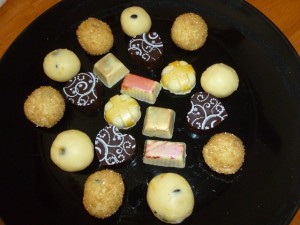 Passion Fruit Caramel Chocolates aka Bonbons
Ingredients
Dark or milk chocolate melted, preferably tempered, about 1 lb
1 cup Granulated White Sugar
1/2 cup Light Corn Syrup
1/2 cup  Water
4 Tbs Unsalted Butter
2 Tbsp  Heavy Cream
1/4 cup Passion Fruit Puree
Painting the moulds with coloured cocoa butter.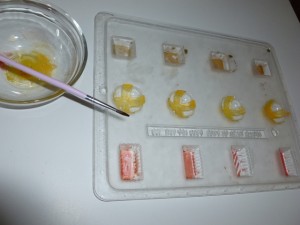 Pouring in the chocolate, filling with caramel and finishing off with chocolate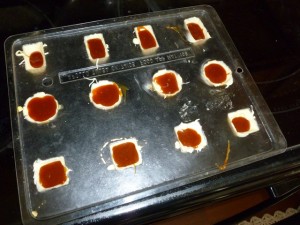 Directions:
1. Place the sugar, corn syrup and water in a medium saucepan.
2. Set over medium-high heat and stir to combine.
3. Bring the mixture to a boil and cook until dark amber in color 310°F-315°F / 155°C-158°C, about 5 minutes.
4. Use a pastry brush, dipped in water, to wash down sides of pan to prevent crystallization as the mixture boils.
5. Remove saucepan from the heat and gradually whisk in the passion fruit puree, heavy cream and butter.
6. Transfer to a medium bowl and let cool.
7. Transfer cooled caramel to a pastry bag fitted with a medium plain tip or a squeeze bottle.
8. Coat the molds with chocolate using the method mentioned above.
9. Fill chocolate coated molds with caramel.  You can use a spoon too but it's less messy and goes a lot quicker with either of the two aforementioned methods.
10. Finish off with a layer of chocolate as mentioned in the method above for making filled chocolates with molds
11. Once fully set, carefully knock the chocolates out of the mold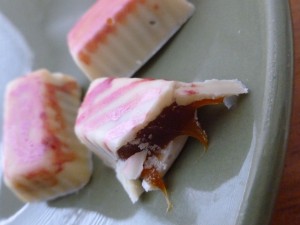 Passion Fruit Trufles
Make the ganache:
1. Finely chop or grate the chocolate
2. Place in a heatproof bowl
3. In a saucepan, heat cream until just about to boil (it will start bubbling around the edges of the pot)
4. Pour the cream over the chocolate
5. Gently stir the mixture until all the chocolate has melted and it is smooth
6.    Stir in your desired flavorings
For rolled truffles
1. Allow the ganache to firm up in a container of choice, preferably deep rather than shallow
2.     Using a teaspoon or melon baller, scoop up room temperature ganache
3. With gloved hands, roll the balls between your palms to round them off
4. Dip in tempered chocolate or roll in various ingredients like cocoa or chopped nuts as desired
Tip: If dipping in chocolate, it's best to refrigerate the ganache balls before dipping so that they're firm and don't melt from the warm chocolate
Tip: For a thicker chocolate shell, dip once in tempered chocolate and allow to set. Then do a second dipping or smear a small amount of chocolate over the truffle and roll in desired ingredients
5. Place on parchment paper until set