The October 2010 Daring Bakers challenge was hosted by Lori of Butter Me Up. Lori chose to challenge DBers to make doughnuts. She used several sources for her recipes including Alton Brown, Nancy Silverton, Kate Neumann and Epicurious.
One of the recipes we could choose from was a recipe called Bomboloni, which is a doughnut like dough but the shape is a circle.  This reminded me of sonhos.  A delicious Brasilian dessert. I remember coming out of classes and smelling sonhos being made at the school cafeteria.  This is exactly how my house smelled like when I make this recipe. It made me home sick.
Ingredients
1/3 cup + 1 Tablespoon Lukewarm water
3 ¼ teaspoon Active Dry Yeast
1.5 Tablespoon Honey
3 cup All Purpose Flour
3 Tablespoon Milk
6 Egg Yolk
1/3 cup White Granulated Sugar + more for rolling
2 teaspoon Salt
Tablespoon Butter, Unsalted
3 cup Canola Oil (for frying)
Jam, preserves, or jelly (I used doce de leite, goiabada and cream)
In the bowl of a standing electric mixer, mix the water, yeast, honey and 1 cup plus 2 tablespoons (160 gm) of the flour. (Alternatively, whisk the ingredients by hand.) Cover with plastic wrap and let stand at room temperature until foamy, about 1 hour.
Return the bowl to the mixer, fitted with a dough hook. Add the remaining 1 ¾ cups plus 2 tablespoons (260 gm) of flour, along with the milk, egg yolks, 1/3 cup of granulated sugar and the salt. Mix at low speed until blended, then add the butter and knead at medium speed until silky but sticky, about 5 minutes; the dough will not pull away from the side of the bowl.
Using an oiled spatula, scrape the dough into an oiled bowl and cover with plastic wrap. Refrigerate overnight.
In a large saucepan, heat the canola oil to 360°F/180°C. Line a rack with paper towels. Fill a shallow bowl with 1/2 inch of granulated sugar. On a lightly floured surface, roll out the dough a scant 1/2 inch (12 mm) thick. Using a 2-inch (50 mm) round biscuit cutter, stamp out rounds. The original recipe said to not re-roll the dough, but I did and found it to be fine.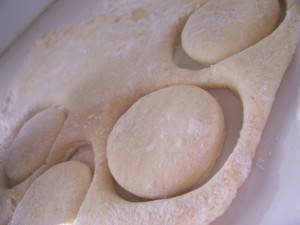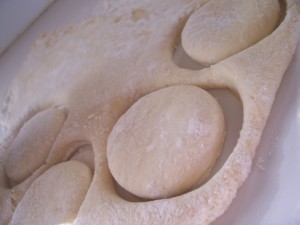 Fry the rounds, 4 to 5 at a time, until they are browned, about 4 minutes (mine only took about a minute each – try to go more by sight). Be sure to keep the oil between 360°F and 375°F (180°C and 190°C). Drain the bomboloni on paper towels.
Roll them in the granulated sugar.
Fit a pastry bag with a plain donut tip (or a 1/4-inch (6 mm) tip) and fill with the preserves (you can also use a squeeze bottle). Poke the tip three-fourths of the way into the bomboloni and squeeze in the preserves, pulling the tip out slightly as you squeeze to fill them as much as possible.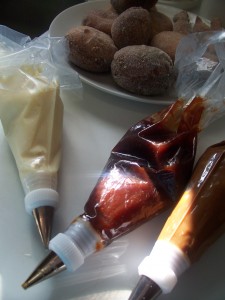 Serve warm.