Posted by Alessandra | Under
Brazilian Recipes
,
Desserts
Wednesday Jan 25, 2012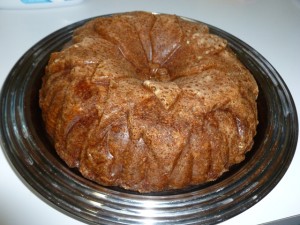 1/2 c oil
3 eggs
1 t vanilla
5-6 rippen bananas (mashed)
1 1/2 c flour
1 1/2 c sugar
1 t baking soda
1/4 t salt
1 t cinnamon
1/4 t baking powder
1/4 c milk
In  a bowl add flour, sugar, baking soda, salt, cinnamon and baking powder- set aside
In your mixer add oil, eggs, vanilla and mashed banana. Mix well.  Add 1/3 cup of flour mixture and half of milk. Mix. Keep adding flour and milk until it is all done.
Pour into flouered pan. Bake at 350 for about 40-50 minutes.