Craftsy is having an AMAZING sale. Check it out!
Craftsy is a community of crafters from around the world.  They offer online classes on everything from quilting & knitting to gardening & cake decorating.
I have taken many classes from them and I always learn something new. I also enjoy the networking. I can ask questions to the teacher, post pictures of my finished projects and connect with other crafters.
Here is a picture of the last class I took with them. It  was on making classic croissants at home from Colette Christian.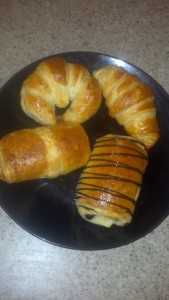 If you would like to see other pictures from my previous classes, check out this post. Thanks