Posted by Alessandra | Under
Brazilian Recipes
,
Desserts
Wednesday Jan 11, 2012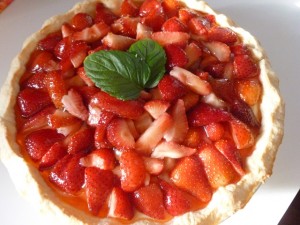 This fruit pie is very common in brasil.  I remember making this with passion fruit, strawberries, chocolate and  lemon cream.  The dough is basic and can be used for anything your imagination can create.   It is a thick, almost like a short bread cookie dough.  The fillings are creamy and delicious. For this strawberry pie I used 2 fillings. The first one is a lemony creamy filling and the second one (most common in brasil) is a sweetened condensed milk cream.  You can do both like I did, or just add one or the other.  It is delicious.  Enjoy!
For the dough:
2 1/4 c flour
1/4 c water
2 T butter
1 t baking powder
pinch of salt
1 egg
Mix everything together. I usually like to add the water last, that way i can control how much it needs.  Sometimes it won't take all of the water.  This recipe will make enough for two 9 inch pie or one pie if you choose to cover it.  I like to make the dough, then let it rest in the refrigerator for a little while.  When ready cover the pie pan with half of the dough.  Prickle with a fork and bake it at 350 for about 15 minutes.  Let it cool, then add fillings.
For cream #1:
4 T sugar
2 yolks
2 T lime juice
1 T corn starch (dissolved in 1/2 c water)
In a sauce pan over medium heat, mix all ingredients until thick.  This will be a yellow, lemony taste cream.  Pour into prepared pie pan and refrigerate.
For cream #2:
1 can sweetened condensed milk
1 can (same measure of the sweetened condensed milk) of milk
2 T corn starch (dissolved in 1/4 c water)
Mix milks together in a sauce pan, when warm add the dissolved corn starch. Cook, mixing it constantly until it thickens it up.  Add on top of first cream. Refrigerate.
For the strawberries:
Wash and slice strawberries.  Add 3-5 T of sugar on top. (Depending on the sweetness of the strawberries). Let it sit for about 1 hour.  Drain the liquid it forms into a sauce pan.  Reserve the strawberries to top your pie.  When cream is cold, pour strawberries on top.  With the reserved liquid, boil it until it thickens a little bit, then brush the top of the pie with this sauce.