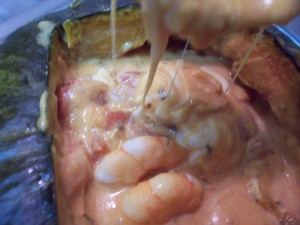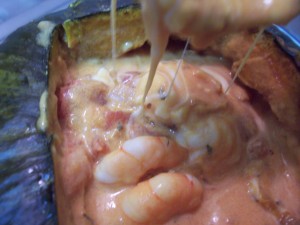 It is getting cold…. I love to see the pumpkin and all sorts of winter vegetables out.  I usually make this recipe a couple of times, and it is a fun one to make for Halloween, because it cooks inside the pumpkin .  If you can, go to a pumpkin patch and try to find the Cinderella Pumpkin . It is orange and kind of flat.  This type is the one that is most comparable to the one we use in Brasil.  If you are not able to find it, any other pie pumpkin would work. Or as you can see in the picture I used a Kabocha Pumpkin. It has a stronger taste, but still delicious.
For this recipe you will want to "clean" your pumpkin first.  So grab a sharp knife and get to work.  Open a hole on top and of the pumpkin, clean out the seeds and goop.  Then wrap it in foil and bake inside a baking dish with a little bit of water until the inside of the pumpkin is soft.  It will take about 45 minutes, depending on the size of your pumpkin
Take it out of oven and scoop some of the pumpkin meat out.  Reserve.
Now you want to cover the sides of the pumpkin with cheese. I have used a mixture of catupiry and mozzarella cheeses. After the entire sides and bottom has a nice layer of cheese, then fill with the mixture (recipe bellow).  Then add a little cheese on top (for taste, haha) and bake it again until bubbly.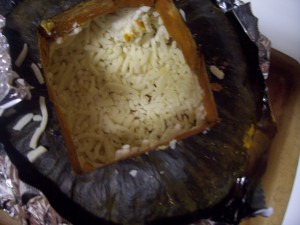 Here is a picture of it done.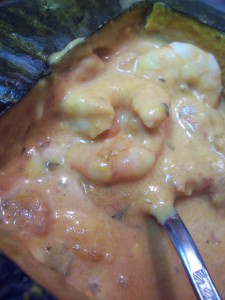 For the inside mixture:
2 lbs of shrimp (it may take more depending on the size of your pumpkin). I usually go more than less, since we like shrimp here! (this can also be done with chicken or meat)
1-2 T olive oil
2 t garlic (crushed)
1/2 medium onion (diced)
3-4 large tomatoes (diced, no seeds or skin)
1 (8oz) can tomato sauce
2 T butter
Salt and Pepper to taste
About 1 cup or more of the baked pumpkin meat (reserved from preparing the pumpkin)
1 can of creme de leite (table cream)
In a large sauce pan, sautee the garlic and onions in the olive oil.  Add shrimp, cook a little bit, then add tomatoes, tomato sauce, butter and seasonings.  Let it cook. It will make a sauce. If necessary add a little water.  After sauce is done, add the pureed pumpkin meat and the table cream.  Pour this mixture into your pumpkin.
ps: if you prefer, you can make the sauce first and then add the shrimp last. This will prevent overcooking the shrimp.  Still sautee them and season to taste. Then add to the creamy tomato sauce 😉