We came across this cut of meat and I had to come up with a recipe. It is super easy and fast to make. You can serve it as a main dish or cut in small portions for appetizers.  Just ask your butcher to cut the short ribs in a long but thin strips (almost as thin as thick bacon)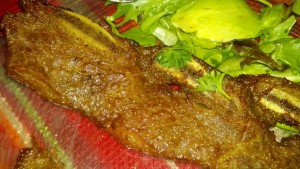 Make the marinade:
1/4 cup brown sugar
1/3 c olive oil
3 T soy sauce
A good chunk of fresh Ginger (finely shredded)
Mix inside of a zip lock bag and add the slices of meat (about 12 slices or as much as the bag can hold)
Marinate about 1 hr
Put on top of wired sheet at 500 F  (or on broil) for 5 minutes each side.   Watch it closely, since the meat is so thin and the oven is super hot it cooks fast. It may also make a little bit of smoke because of the sugar in the marinade.
Sprinkle parsley on top (optional)