Posted by Alessandra | Under
Uncategorized
Sunday Sep 29, 2013
Inma of la Galletika was our Sept. 2013 Daring Bakers' hostess and WOW did she bring us something decadent and delicious! Pastel de Tres Leches or Three Milk Cake, creamy yet airy, super moist but not soggy… just plain delish!
This month's daring bakers challenge was the tres leches cake recipe. I have been making tres leches for quite some time now, and every time I make I think: " I really want to try a chocolate version" so when I saw this challenge that is exactly what I did. I used their recipe for the chocolate tres leches and it was really good.  I thought the cake was a little dense than what I am used to, but the milk mixture was delicious. Cooking it made it a bit thicker and it was really good.  Thanks Inma for the challenge.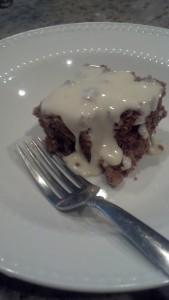 Coconut Three Milks Cake (recipe from daring baker's challenge)
Ingredients for sponge cake
5 large eggs (separated)
½ cup sugar
2 teaspoons  vanilla extract
1 cup  all-purpose (plain) flour (sifted)
¼ cup water
3 tablespoons  unsweetened cocoa powder
For the coconut syrup
1 can (14 oz) sweetened condensed milk
1 can  coconut milk
1 cup  heavy cream (about 35% fat)
Topping and filling
2 cups of whipping cream (about 30% fat)
½ cup  sugar
1 cup  shredded coconut
Directions for the sponge cake:
Preheat oven to moderate 350°F. Prepare a  square 9"x9" pan or 9"  round cake pan
Separate the egg whites from the yolks. Beat the egg whites on medium speed, 3 – 5 minutes. When soft peaks form slowly add the sugar in  small batches. Whip until stiff peaks form about 5 minutes. Set aside.
In a medium bowl beat egg yolks at medium-high speed for about 5 to 6 minutes, or until the egg yolks become pale colored, creamy and puffy. Stir in vanilla.  Pour the egg yolks over the egg whites, gently fold until just combined trying not to lose any volume from the mixture.  Fold in the flour little by little in the form of rain. Mix until just combined (over-beating will result in a denser, flatter cake). After folding in the flour you have to fold in the cocoa powder dissolved in the  ¼ cup of water (it should be a thick paste) and then bake in the preheated moderate oven for 25 minutes or until the toothpick comes out clean
Let it cool. Once cool, split the cake in half, flip the top of the cake and place it on a base. Poke using a fork holes all over the cake to better absorb the three milk soaking liquid.
Directions for the coconut syrup
In a saucepan add the sweetened condensed milk, coconut milk and heavy cream, bring to a boil, reduce the heat and continue boiling for 5 minutes. Remove it and let it cool.
Cut the cake in half and brush the syrup on both sides until totally absorbed.
Directions for the decoration
1. In a skillet, over medium heat, toast the coconut 2. Cover the cake with whipping cream and spread the coconut on the top. Enjoy!