Posted by Alessandra | Under
Uncategorized
Saturday Jul 27, 2013
We love to make this brazilian limeade, also known in Brasil as swiss limeade (limonada suíça). It is refreshing and perfect for summer days! Enjoy
for each liter of water you will need:
2 large limes (you can use 3 medium size or 3 large is you like it really strong)
1 heaping tablespoon of sweetened condensed milk
1/2 c sugar
First you want to cut the limes into 4 pieces. You will use the entire lime. Just make sure to take that middle (white part) and the seeds out. (just like the picture)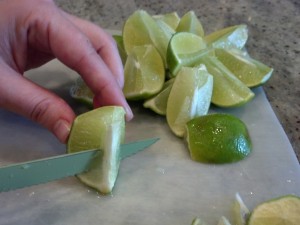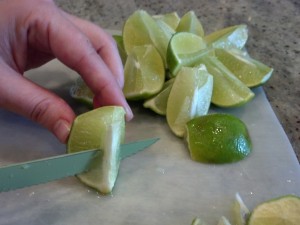 In a blender add 1 liter of water, sugar and sweetened condensed milk.  Blend until all the sugar is dissolved.
Then add the cut limes and pulse 3-4 times.  The limes will be chopped into smaller pieces.
Strain it and serve with ice.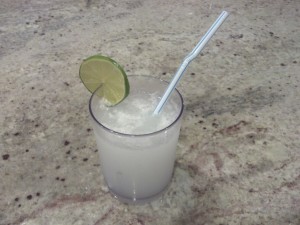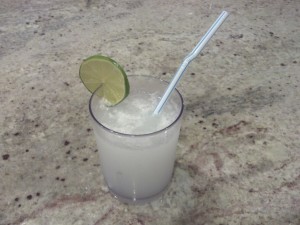 Options:
You can change the flavor a little by adding other fruits into the mixture. Here are some ideas: raspberry, pineapple, oranges, blueberry and strawberry. Make it a little more interesting with some splashed of coconut cream.  It is also refreshing with a bit of mint, or even some leaves of sweet basil. 😉
YUM