Posted by Alessandra | Under
Brazilian Recipes
,
Fish
Thursday Mar 18, 2010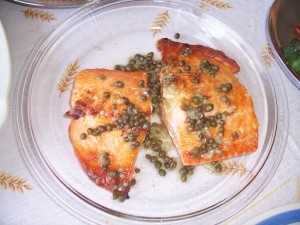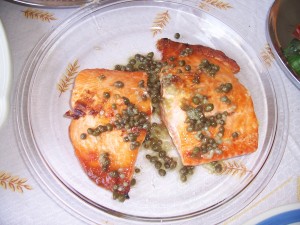 Ingredients:
One nice piece Salmon (cut into slices of 3-4 fingers big)
1/4 cup Butter
Salt and Pepper
1 T Olive Oil
2 cloves of Garlic
2 lime (juice)
2-3 T Capers
Use 1 T of butter and melt it in a frying pan. Add the fish and cook on both sides until it gets a nice color.  Make sure to salt and pepper both sides of the fish.  Set it aside.
In the same pan, add olive oil and smashed garlic. Cook for about 1 minute.  Add the rest of the butter let it melt and come together.  Add lime juice and then capers.  You might not need to add salt, since capers are a little salty.  Just make sure to try the sauce for seasonings.
Pour sauce on top of fish and serve!