Posted by Alessandra | Under
Fish
Wednesday Apr 13, 2011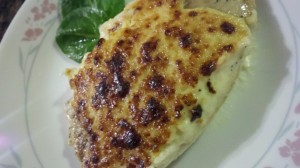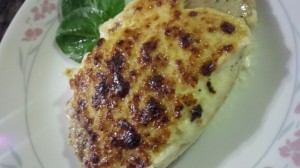 6-8 tilapia fillets
4 T butter
5 T lemon juice (separate)
salt and pepper
1 c mayo
1/2 c Parmesan
Rinse and dry tilapia fillets.  Salt and pepper both sides.  In a casserole dish. Add half of the butter.  Then layer it with the fish.  Top each fish with rest of the butter and  2 T lemon juice.
Bake it at 350 for about 10 minutes. Turn fillets and bake for another 10 minutes.
Mix the mayo, 3 T lemon juice and Parmesan together. Top each fillet with this mixture.  Broil until top is golden brown.