Erica of Erica's Edibles was our host for the Daring Baker's June challenge. Erica challenged us to be truly DARING by making homemade phyllo dough and then to use that homemade dough to make Baklava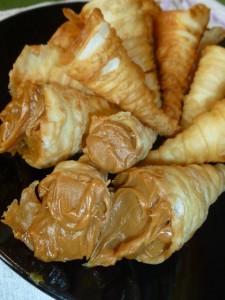 I decided to make phyllo dough and use it to make a Brasilian treat (canudinhos) filled with doce de leite.  It turned out amazing!  I was a bit skeptical with this recipe to use for Baklava, but I think this dough will be perfect. It rolls out so thin and it is super easy to make it. Thanks Erica for sharing it with us!
Ingredients:
1 1/3 cups  unbleached all purpose (plain) flour
1/8 teaspoon  salt
1/2 cup less 1 tablespoon water, plus more if needed
2 tablespoons  vegetable oil, plus additional for coating the dough
1/2 teaspoon cider vinegar, (could substitute white wine vinegar or red wine vinegar, but could affect the taste)
Directions:
1. In the bowl of your stand mixer combine flour and salt
2. Mix with paddle attachment
3. Combine water, oil and vinegar in a small bowl.
4. Add water & oil mixture with mixer on low speed, mix until you get a soft dough, if it appears dry add a little more water (I had to add a tablespoon more)
5. Change to the dough hook and let knead approximately 10 minutes.  You will end up with beautiful smooth dough. If you are kneading by hand, knead approx. 20 minutes.
6. Remove the dough from mixer and continue to knead for 2 more minutes.  Pick up the dough and through it down hard on the counter a few times during the kneading process.
7. Shape the dough into a ball and lightly cover with oil
8. Wrap tightly in plastic wrap and let rest 30-90 minutes, longer is best ( I let mine rest 2 hours and it was perfect)
Rolling your Phyllo
* Remove all rings and jewelry so it does not snag the dough*
Use whatever means you have to get the dough as thin as you can.  I have included a fantastic video at the end of the post on how to roll out your phyllo dough, using a wooden dowel, which worked perfectly for me.  You may also use a pasta machine if you have one, or a normal rolling pin whatever works for you.
1. Unwrap your dough and cut off a chunk slightly larger then a golf ball. While you are rolling be sure to keep the other dough covered so it doesn't dry out.
2. Be sure to flour your hands, rolling pin and counter.  As you roll you will need to keep adding, don't worry, you can't over-flour.
3. Roll out the dough a bit to flatten it out.
4. Wrap the dough around your rolling pin/dowel
5. Roll back and forth quickly with the dough remaining on the dowel (see attached video for a visual, its much easier then it sounds)
6. Remove; notice how much bigger it is!
7. Rotate and repeat until it is as thin as you can it.  Don't worry if you get rips in the dough, as long as you have one perfect one for the top you will never notice.
8. When you get it as thin as you can with the rolling pin, carefully pick it up with well floured hands and stretch it on the backs of your hands as you would a pizza dough, just helps make it that much thinner.   Roll out your dough until it is transparent.  NOTE: you will not get it as thin as the frozen phyllo dough you purchase at the store, it is made by machine
9. Set aside on a well-floured surface.  Repeat the process until your dough is used up.  Between each sheet again flower well.  You will not need to cover your dough with a wet cloth, as you do with boxed dough, it is moist enough that it will not try out.
To make the canudinhos, cut the dough into one inch strips, roll them in the cone shaped canudo makers.  Fry in medium hot oil. Fill them with your favorite filling.  I used doce de leite and nutella.  YUM