Posted by Alessandra | Under
Brazilian Recipes
,
Desserts
Thursday Oct 7, 2010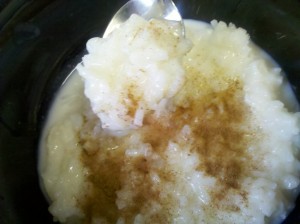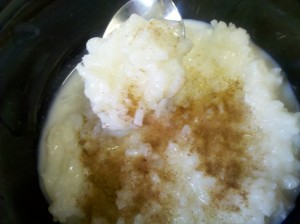 1 c rice
2 c water
4 c milk
1 1/2 – 2 c sugar
Cinnamon to taste
2-3 T sweetened condensed milk
In a sauce pan, add milk and sugar. (Add the 1 and ½ c sugar to the milk and taste the milk. If it is not sweet add more sugar.) Bring it to boil, turn heat to medium low and let it cook, stirring it occasionally.  This will thicken over time. (I do this then I start cooking the rice, this way this mixture will have been cooking for about 30 minutes or so before you start adding it to the rice.)
In another sauce pan, add rice and water. Let it boil until rice is almost soft. It will take about 20 minutes.  Then start adding the milk mixture, little by little.  The milk mixture will keep cooking in the first sauce pan, making it thicker.  As you add each ladle of the milk mixture to the rice, it will sweeten the rice and it also will become thicker.
Add some sweetened condensed milk to taste.  I also like to add cinnamon.  Sometimes I will add a stick of cinnamon to the milk while it is cooking.  This will flavor the milk and add a gentle cinnamon taste to the pudding.