Posted by Alessandra | Under
Brazilian Recipes
,
Desserts
Thursday Oct 14, 2010
According to holiday insights calendar today is National Dessert Day. When I think of dessert from Brasil, I always think sweetened condensed milk, which then brings memories of Brigadeiro. This dessert was created in the 1940s and is still popular today. This truffle like goodness is served at pretty much every type of party in Brasil: weddings, birthdays, get togethers or just a sweet tooth desire. They are easy to make and delicious!
1 can sweetened condensed milk
1 T butter
3-4 T Nestlé Nesquik (you could use cocoa powder for a stronger taste, or melted chocolate)
Mix all ingredients in a sauce pan. Choose one that has a thick bottom, this way you will be less likely to burn your candy.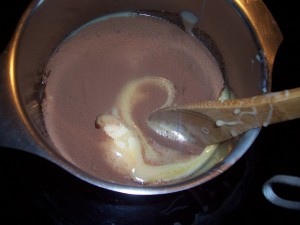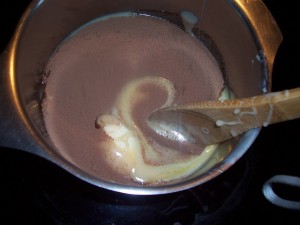 Mix it constantly. Don't stop mixing it.  It will take about 10 minutes on medium high heat.  It will start to thicken, lower the heat to medium low and continue mixing it (in a figure 8 pattern).  Do this until the mixture is thick and comes out of the bottom of the pan, like the picture bellow. I usually twist the pan to one side a little bit and if it looks like the picture it is ready!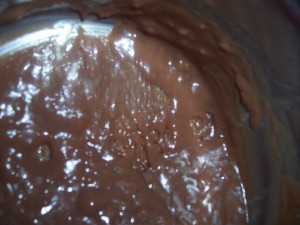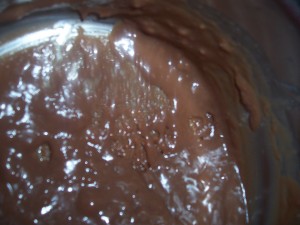 Pour the mixture on a plate and let it cool.  When cooled, roll it into little ball shapes and dip them into chocolate sprinkles.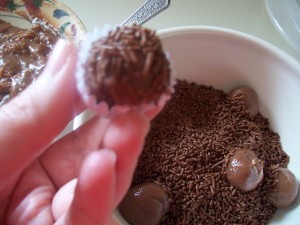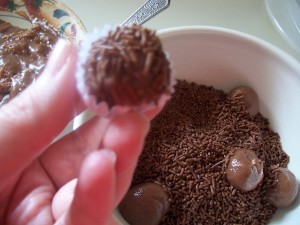 You can also use this to fill or top cakes.  Just make sure to take the brigadeiro off of the heat just before it thickens too much.  Pour this heavenly chocolate gooey deliciousness on top of your cake and voila!