Posted by Alessandra | Under
Desserts
Monday Aug 9, 2010
I will always remember my first bite of cheesecake.  I was having  a difficult day and my American Mom/friend (what a wonderful woman) told me that it was time she introduced me to cheesecake.  I translated the word in my head, cheese= queijo, cake= bolo, "bolo de queijo". Huh?!? No thanks! But she insisted and I tried it.  Yes it was a love at first bite! So good…
Cheesecake is also a lot of fun to make. It can be a little tricky to keep the top from cracking, but even if the top cracks it is still cheesecake and it is still delicious!  I will also share some tricks about keeping your top nice and smooth at the end of this post!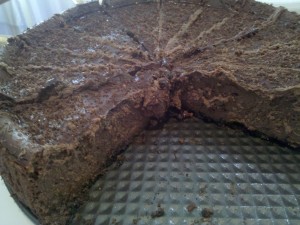 Bunches of Chocolate Cheesecake:
Preheat oven to 350 degrees F if using a silver spring form pan, or 325 degrees F if using a dark nonstick spring form pan.
For the crust:
1  cup crushed oreo cookies
1/2 c crushed grahm crackers
1 T sugar
2 T melted butter
Lightly grease the bottom and sides of a spring form pan (9 inch). Mix the oreos, graham crackers and sugar together. Add butter and mix with your fingers. Press into the bottom of the pan and set it aside. You could use any type of crackers to make this crust. I like using oreos and graham crackers together. It feels like the graham crackers make the crust a little lighter then just using oreos alone.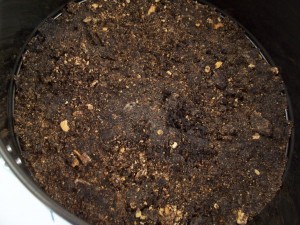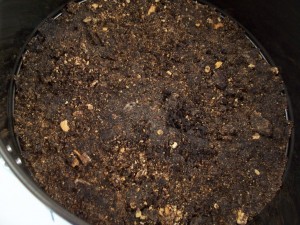 For the Chocolate Cheesecake:
16 ounces of cream cheese (softened at room temperature)
1 cup sugar
1 teaspoon vanilla extract
1 teaspoon chocolate essence (extract)
2 tablespoons flour
1 tablespoon cocoa
3 eggs
1 1/2 cup sour cream
8 ounces melted dove dark chocolate, cooled slightly
Using an electric mixer, combine cream cheese, sugar, vanilla and chocolate extracts and beat until creamy. Add the flour, cocoa and mix until smooth.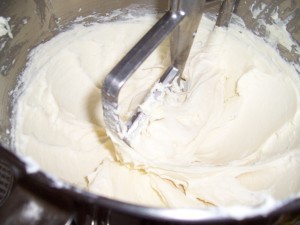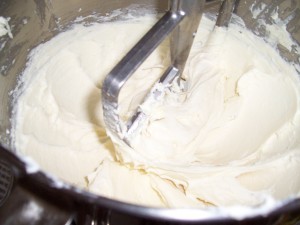 Add the melted chocolate and sour cream, mix well.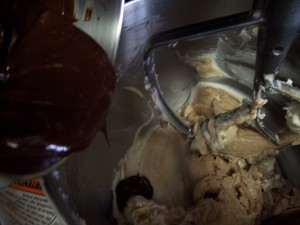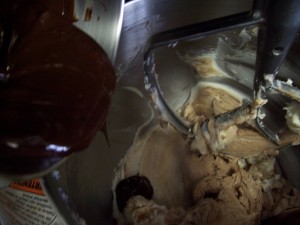 Then add the eggs, 1 at a time, mixing on low speed after each addition until just blended. Pour the batter into prepared pan and bake for about 1 hour. Or until the center is almost set. It will be a little wobbly when you touch.
Cool the cake on a wire rack. Top it with Chocolate Ganache:
4 ounces of melted chocolate (dove dark chocolate)
1/2 cup of heavy cream
Mix it well and spread it over the cheesecake.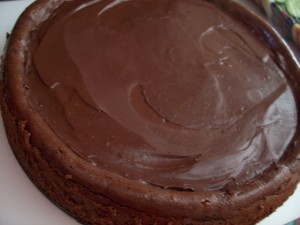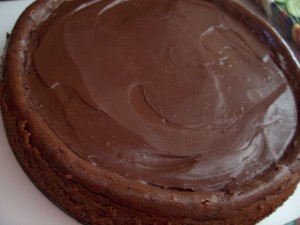 Refrigerate. Top with chocolate shavings and fresh raspberry. Enjoy!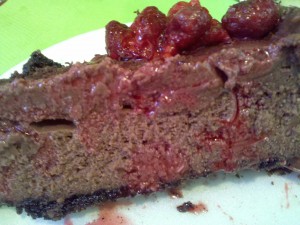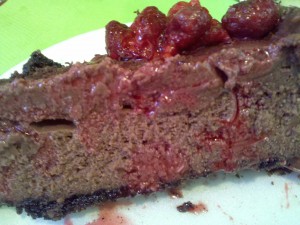 To prevent crack tops:
The top of the cheesecake can crack because of the temperature is too hot. You could cook your cheesecake in a water bath and bring it to cool very slowly to prevent the top to crack. Also running a knife around the rim of the pan when the cake is cooked and cooling will allow cake to pull it from the sides and prevents cracking.  You could also use a thermometer and make sure your cheesecake does not go over 150 degrees F.