Posted by Alessandra | Under
Brazilian Recipes
,
Side Dish
Friday Aug 27, 2010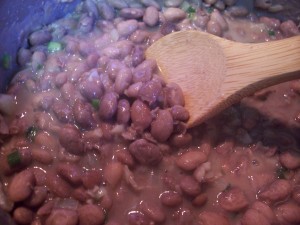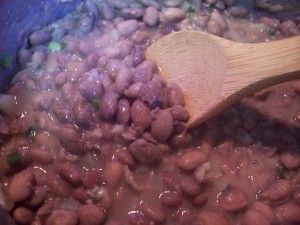 Brazilian Beans
2 cups beans (black, red or pinto beans)
4 cups water (or more)
1 medium size chopped onion
4-5 cloves of garlic
3 tablespoon olive oil
Salt and pepper
Green onions (optional)
Optional:  cut bacon (or Canadian bacon) or 1 sliced Portuguese sausage
How to make it:
Cover beans with water in a pressure cooker, (water level should be about 2-3 inches above the beans). Close the pressure cooker and place at medium heat. It will take about 30-40 minutes to cook the beans after the pan is pressurized (steam starts blowing out).  After the beans have cooked,  let the pressure cooker cool completely before  opening it to check if beans are soft enough. If they aren't cook for longer. The whole process takes about 1 hour.
Note: ALWAYS wait for your pressure cooker to cool down before you open it!
If you don't have  a pressure cook, let the beans soak overnight and use a sauce pan to cook the beans.  Same process, just cover them with water (about 2-3 inches above the beans). Cook until beans are soft.
Here is where the Brazilian part comes from….
In a sauce pan saute the garlic and onions with the oil.  Add the boiled beans, salt, pepper and green onions. Let the beans cook until liquid gets thicker.  It will take about 20-30 minutes.  Taste for seasoning; if needed add more salt.
You could also add the bacon/sausage during this time.
If your sauce is not getting thicker, smash about 1/4 cup of the beans with a fork and mix it with the rest.