Posted by Alessandra | Under
Sauces and Dips
Monday Aug 16, 2010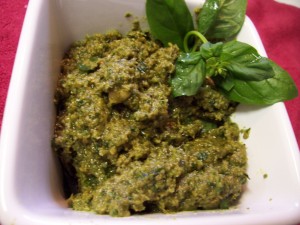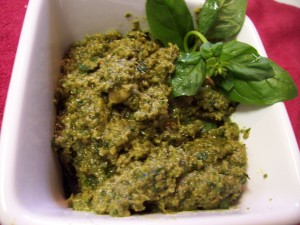 I love pesto sauce. I usually plant Basil, however this year I was not very lucky. I planted my beautiful basil and they were going great, until a little dog of mine decided to eat it all!  And I never got to go plant more… busy summer! However a dear friend of mine gave me some of her delicious fresh sweet basil and this is what happened to it:
Pesto Sauce:
2 cups basil leaves (you may also use the flowers)
2/3 c toasted pine nuts
5 clothes of garlic
Salt and Pepper to taste
1/4 c shredded Parmesan cheese
1/3 c olive oil (may need a little more)
Wash and dry your basil leaves.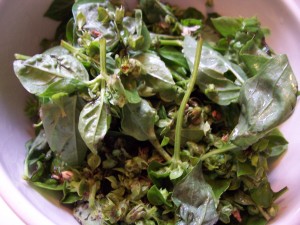 In a sautee pan, toast the pine nuts slightly.  Keep an eye on it!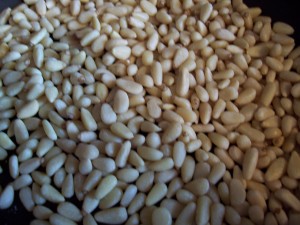 This time I used my Magic Bullet, but usually I make this on a food processor. Add the basil, pine nuts, garlic, Parmesan, salt and pepper.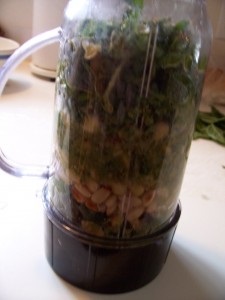 If you are using the magic bullet add the olive oil with all the other ingredients. You may need to add a little bit of water just to get things going, pulse until it is all mixed.
If using a food processor, mix the ingredients and slowly add the olive oil until it all blends in nicely.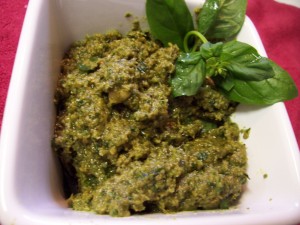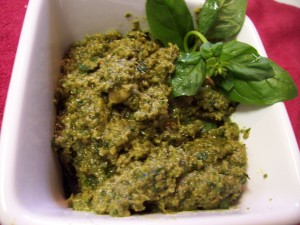 I love to use pesto sauce for sauces (if you want creamy add a little bit of cream or Alfredo sauce to it), pizzas, shrimp. It is also a delicious spread for toast.  Enjoy it!
PS: This is a very strong pesto. That is the way we like it in our house 😉