Posted by Alessandra | Under
Desserts
Monday Aug 23, 2010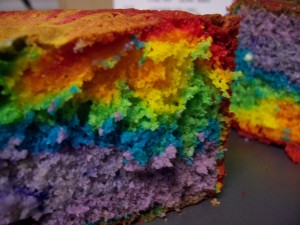 I have been talking about rainbows with my son, telling him stories, etc.  I thought it would be fun to make a rainbow cake with him.  He is always cooking with me in the kitchen. This was a fun, messy project. Just as any project with a 2 year old would be.  I saw this idea online in many other blogs and decided to try it.
Rainbow Cake:
For the cake: (you may use a box of yellow or white cake mix)
6 eggs
2 1/2  c sugar
3 c flour
1 T baking powder
1 1/4 c milk or water
1 t vanilla
8 T butter (melted)
Mix the milk (or water) with the butter and vanilla. Set aside.  Using an eletric mixer, beat the egg whites until soft peaks. Add the yolks, one at a time. Mix in the sugar until fluffy.  Add  1 cup of flour and 1/2 of the liquid mixture.  Keep doing this until all the flour is used.  Stir in the baking powder.
For the Colors:
I used gel colors from Wilton. They give a nice vibrant color.  You may also use liquid if you want.
You will need the colors of the raibowl: red, orange, yellow, green, blue, indigo and violet (I used the same for the last 2 colors)
Divide the cake batter until 7 containers and color each one with its color.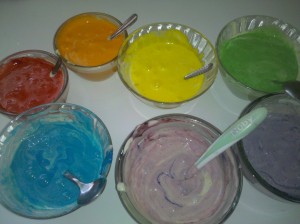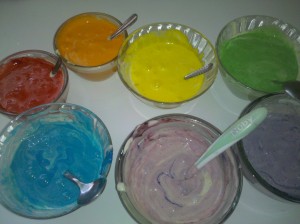 Spray a cake pan with oil and dust it with flour. Then add the colors one by one on top of each other.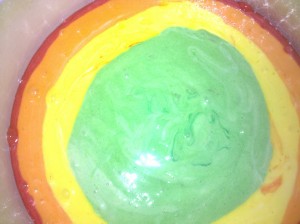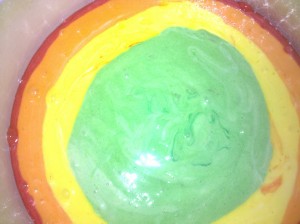 Bake for about 35- 40 minutes or until cake is done.
You may decorate as much as you want. I decided to leave my without a frosting. I used a little bit of orange juice and sugar to make a syrup and drizzled that on top of the cake.
My son had a lot of fun making this with me. He is still asking for the rainbow cake every day!!!