These are delicious. The dough is a bit time consuming, but easy to make. Think of a mix of a brioche dough and a buttery waffle dough and you got it right! YUM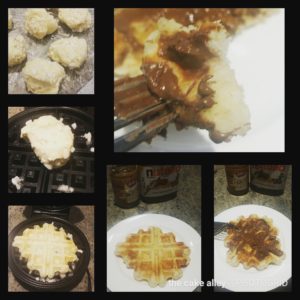 Liege Belgian Waffles:
4 1/2-5 c flour
1 1/2 T instant dry yeast (if using active make a sponge first)
2 T honey
pinch of salt
1/4 c hot water
3/4 c hot milk
2 eggs
2 t baunilla
2 sticks of butter (room temperature)
1 cup Belgian pearl sugar (I like the larger sized ones-see picture)
You can do this by hand, but I suggest using a mixer with the dough hook.
Add 4 cups of flour (reserve 1 cup for later), yeast, honey, salt, water, milk and mix until combined. Then add eggs, baunilla and if needed another 1/2 c of flour. Mix for about 5 minutes. You want a soft, wet bread dough texture. After all combined add butter 1 tablespoon at a time until it mixes all with the dough and if needed the rest of the flour. You may need to add even more flour, but don't go crazy or it will be too hard of a dough. The final dough will be a wet, soft bread dough texture.  The butter will give a nice shine to the dough. Just like brioche. Cover it and let it sit room temperature for 2 hours.
After the 2 hours, punch the dough to release some air. Then let it sit again overnight in the fridge.
The next day, bring dough to room temperature and add the pearl sugar (very important step). Mix in the sugar gently, folding the dough into the sugar. It is a lot of sugar. Cut into ball sizes (about 12-14 depending on the size you want)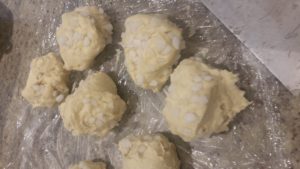 Let is sit for another 15 minutes and the cook it on your waffle iron.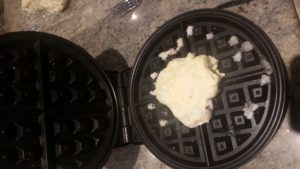 Make sure you use a Belgian waffle iron. It is a bit deeper than the normal waffle iron and that will help so the waffles aren't too hard.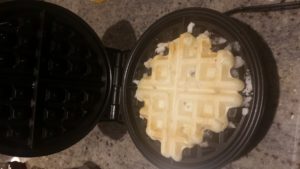 There are many ways to serve it. You can eat it just like it is, or spread some biscoff, nutella or a combination of both. It is also delicious with fresh fruit and cream!
Enjoy!