Posted by Alessandra | Under
Pastas
Monday Oct 25, 2010
In celebration of World Pasta Day I decided to make homemade pasta.  If you haven't tried to make pasta from scratch, give it a try. I remember spending the whole afternoon making pasta with my mom in Brasil.  We would make the dough, roll it open, cut it into noodles and dry the pasta for Sunday's dinner.  At the end of this project, the kitchen would be covered in flour!  However, it was a fun time together. Since I am not cooking for massive amounts of people anymore, I now use a much simpler recipe.  This will give you 1 lb of fresh pasta. Also, it is not too messy to cook in smaller amounts 😀
2 c flour (you can use white or whole wheat)
1/8 t salt
2 eggs
1 T olive oil
1/3 c cold water
You could use  a food processor to mix the dough, or just do it by hand.  Mix the flour and salt in a bowl. Add the eggs and oil in the middle of the bowl and start mixing in with the flour. I like to use a fork.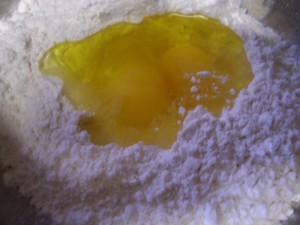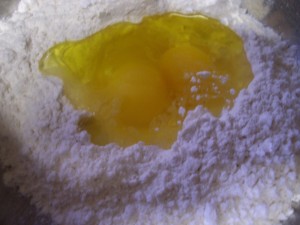 Add the water slowly until the flour mixture comes together in a ball. Turn onto a lightly floured surface, shape it into a dish and cover with a wet cloth.  Let it rest for about 15 minutes. Divide the dough into 4 pieces.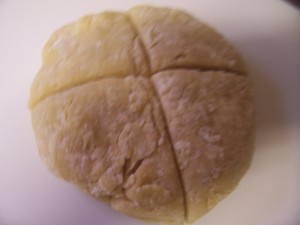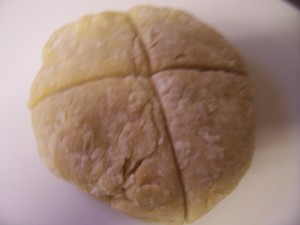 Work with one piece at a time. Leave the other pieces covered with the wet towel. You can use a pasta machine to open your flat sheets of pasta and then cut them to shape desired.  Alternatively, you could take this opportunity to exercise your upper body 😀  and open the pasta by hand. It really isn't that hard! I use a rolling pin and start to flatten the dough into a disk until it is very thin.  You want to turn the dough while you are opening it to prevent it from sticking to the counter and also to be able to open it very thin.  You may need to dust it with flour.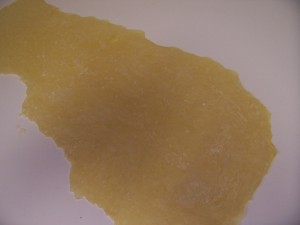 Cut the dough into shapes desired.  For this one I rolled it lightly and cut them medium thick.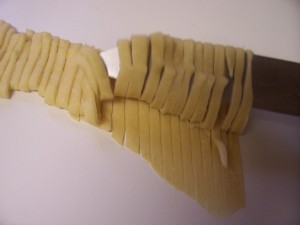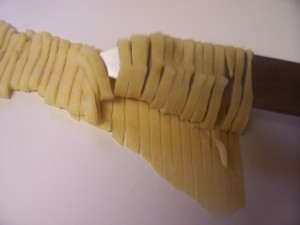 I then layer them in a cookie sheet dusted with flour while I work on the other disks of dough.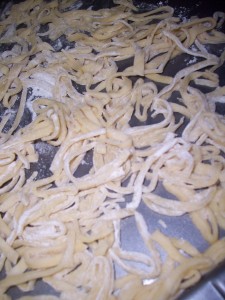 Now you just need to cook it.  Make sure to salt the water and when the water comes to a boil, drop your pasta by hand fulls. It cooks very fast, since it is fresh.  This way you don't need to cook all 1 lb at once, or it may all glue together.  I cooked them in 3 batches.  It will take may be 3-5 minutes to cook your pasta. You will know it is ready when it floats to the top.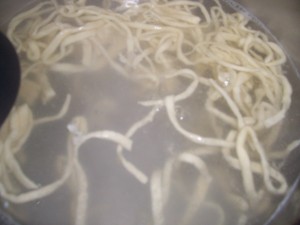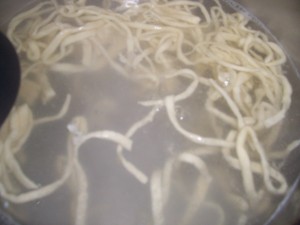 Add the cooked pasta to your favorite pasta sauce and enjoy!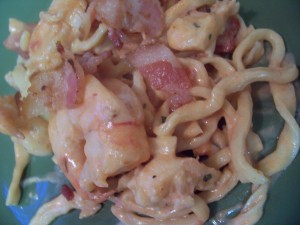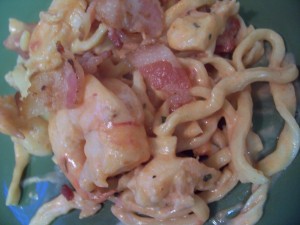 This sauce is a red white shrimp and lobster sauce! Yum