Posted by Alessandra | Under
Pastas
Friday Jul 23, 2010
This is one of our family's favorite dishes.  You can't go wrong with butter right?  I am always afraid to use a lot of butter in my dishes, but I will make an exception for this one. The burned butter for this recipe is just so delicious!  Maybe next time I make it, I will try to make it with Ghee.  I was reading my friend's blog post on Ghee, on clarified butter and anyone that can rationalize the use of butter for good health reasons is a great friend of mine!
6 oz (half of box) thin spaghetti or angel hair pasta
1/2 c of shredded Mizithra cheese
1/3 c butter
Cooked Shrimp (to taste)
I like to shred the Mizithra Cheese in the fine size of my shredder.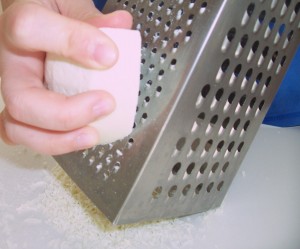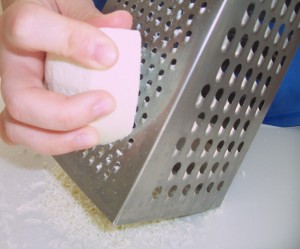 Cook pasta according to package directions.  In a sauce pan, heat the butter on low heat until it is all melted. Turn up the heat a little bit and cook the butter until it starts to foam. Keep stirring so it doesn't stick to the bottom or burn.  Cook until butter has a nice golden color. Keep an eye on the butter since it only takes seconds to turn from the nice golden brown color to a black burn color. You don't want the black color!  The butter will have a nice aroma and it will look beautiful. This is called brown butter. It can be make ahead of time and refrigerated.  Then all you need to do is reheat when needed.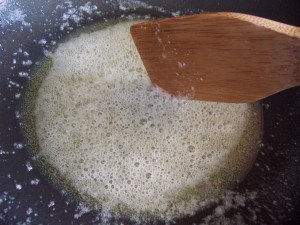 Gently toss the pasta in the butter sauce. Add cooked shrimp and Mizithra cheese. Sprinkle a little bit of parsley.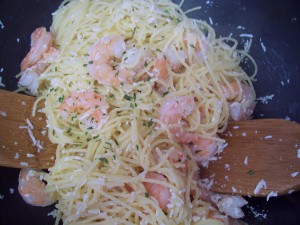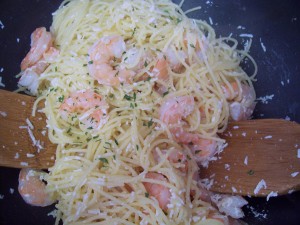 I like to serve this with a nice green vegetable. Steamed broccoli, green beans or bok choy.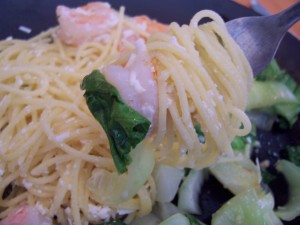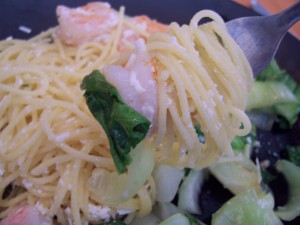 Can top with parsley, sun dried tomatoes, chicken and/or mushroom!!!