Posted by Alessandra | Under
Brazilian Recipes
,
Catupiry
,
Chicken
Thursday Sep 27, 2012
For the creamy chicken recipe, you will first need to make my basic shredded chicken recipe. Here it is:
Basic Shredded chicken:
3 big boneless chicken thigh
water to cover
2 T chicken boiullon
Boil until chicken is cooked and tender.  Check and adjust for salt and seasonings while boiling it.  Shred and reserve.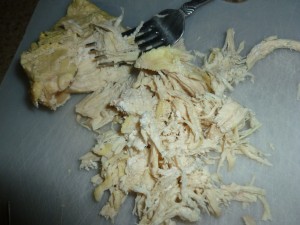 *you can use chicken breasts. Just remember you will loose a little bit of the flavor and moistness by using the chicken breasts.  Sometimes I like to use both breasts and thighs.
This recipe is something I love to make, because I can make a big batch and use it in other recipes.  All you do is change the seasonings and you create a entire new dish with the same basic ingredients (boiled shredded chicken) 😉  It is also easy for busy parents to freeze individual or family portions of the basic chicken and then use it on busy days.
I also like to strain and keep the water  you used to boil the chicken.  This is chicken broth and can be used to enhance the flavor in rice dishes, risotto, coxinhas and many other dishes.  I also like to substitute chicken broth in recipes that call for wine.
Now, for the creamy chicken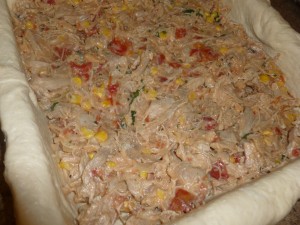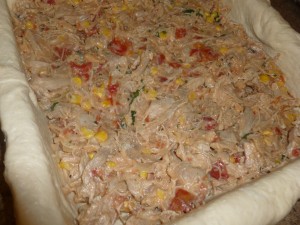 1 recipe of basic shredded chicken
1/2 onion diced
2 cloves of garlic smashed
2 T oil
Salt and Pepper to taste
1 or 2 tomato diced (no seeds)
1/2 cup of catupiry cheese – I LOVE this cheese 😉 wink wink
1 T sliced green onions
1 T parsley
Other optional things you can add: sliced palm hearts, corn, peas, olives, bacon, etc.
Sautte the onions and garlic in the oil.  Add the chicken, salt, pepper, tomatoes and cook for a little while. Taste for seasonings and adjust if necessary.  Add the catupiry cheese, green onions and parsley.
I like to use this chicken for pie fillings, or served with rice or your favorite pasta.  It is also good served with a nice salad 😉 Enjoy