Posted by Alessandra | Under
Appetizers
,
Brazilian Recipes
Sunday Jul 8, 2012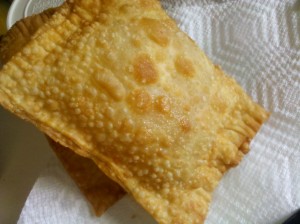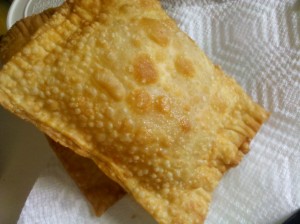 Pastel is a deep fried pastry dough. Some of the most common are filled with chicken, meat, ham and cheese, catupiry, and other mixtures. You can also make it sweet with chocolate, goiabada, doce de leite and others.  It is easy to find pastel in Brasil. It is common to find it in the street corners and street markets.  It is a delicious treat.
Here is one of my favorite dough recipes.  I have about 3 of them that I rotate and make when I crave pastel.  I would say they are all about the same. The secret is to be able to open the dough nice and thin before filling it.  I use my mom's dough roller (cilindro) which I brought from Brasil. I think any pasta maker machine would work perfectly.
2 c warm water (about)
1 kl flour
1/2 c oil
2 T butter
1 T baking powder
2 eggs
pinch of salt
Mix the flour, baking powder, butter and oil.  Add the eggs, one at a time.  Pour the water slowly in the middle of this mixture and mix until it comes together.  It will be nice and soft.  Let the dough rest for about 1 hour.  Cut pieces of the dough and use the pasta machine to make thin rectangular shapes.  (it will be thin like a paper).  When I use the dough roller, I start on the highest number (thick) then start lowering the numbers until I get a thin dough that will be able to hold the filling. This dough will freeze very well.
Fill your pasteis with your favorite fillings.  Fry in hot oil. Enjoy!
A kitchen scale will come in handy to measure the ingredients for this recipe 😉