Posted by Alessandra | Under
Brazilian Recipes
,
Desserts
Sunday Jul 15, 2012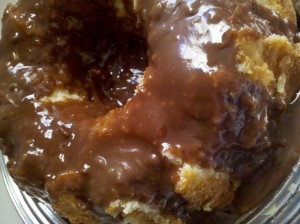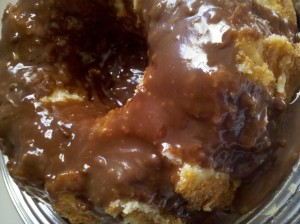 Simple Cake with Passion Fruit Ganache
For the Cake:
3 c flour
6 T corn starch
3 eggs (separated)
3 c sugar
3 T butter
1 c milk
1 T baking powder
splash of vanilla
In a bowl add flour, corn starch, and baking powder -set aside.  In a cup add the milk and vanilla. Set aside.  In a mixer, beat the egg yolks and sugar until fluffy.  Add the butter, mix until it comes together.  Add rest 1/3 of flour mix, 1/2 of milk mix then flour, milk and flour.  Mix well, set aside.  Beat in egg whites until soft/medium peaks. Fold into cake batter.  Pour into greased cake pan and bake at 350 until done.  (I check by inserting a cake tester in the middle of the cake, if it comes out clean , it is done)
For the Ganache:
250 grms melted  chocolate
1/8-1/4 c passion fruit juice
1/4 c heavy whipping cream
Mix all ingredients.  Pour this mixture on top of the already baked cake.