Posted by Alessandra | Under
The Dairing Kitchen
Monday Feb 27, 2012
The Daring Bakers' February 2012 host was – Lis! Lisa stepped in last minute and challenged us to create a quick bread we could call our own.  She supplied us with a base recipe and shared some recipes she loves from various websites and encouraged us to build upon them and create new flavor profiles.
Basic Quick Bread
Makes one 9" x 5" (23×13 cm) loaf Recipe from Sara Schewe
2 cups all-purpose (plain) flour
1 cup granulated sugar
1 teaspoon baking soda
1/2 teaspoon table salt
1 cup buttermilk or soured milk*
1 large egg
1/4 cup mild- or non-flavored oil, like canola
1 teaspoon flavored extract, such as vanilla or almond
for the glaze 1/3 cup  confectioners' (icing) sugar
1-2 teaspoons milk
Directions:
Preheat oven to moderate 350ºF. Grease a 9×5 inch (23×13 centimeter) loaf pan with butter and line with parchment paper cut to fit the length and width of the pan, with enough overhang to allow easy removal after baking. Grease the top sheet of parchment.
In large bowl, whisk flour, sugar, baking soda and salt to combine. Make a well in the center and set aside.
Lightly whisk (butter)milk, egg, oil, and extract to combine. Pour into well and stir until just mixed into a batter. The batter will be lumpy and may still show a few streaks of flour.
Pour batter into prepared pan. Bake for 40-50 minutes, or until a cake tester comes out clean. Cool in pan on wire rack for 10 minutes, then remove from pan and cool completely before slicing. Drizzle with glaze, if desired.
For the glaze: Slowly whisk confectioners' (icing) sugar and half of the milk, adding more milk as needed to thin the glaze to the desired consistency
I made this recipe but instead of milk I used the juice from maraschino cherries.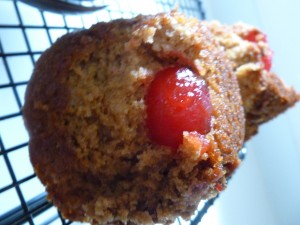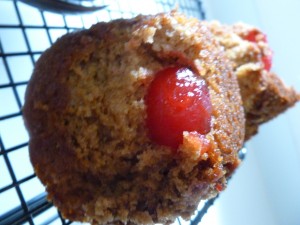 Green Onion, Cheddar & Asiago Beer Batter Bread (made with ginger ale)
Makes one 9" x 5" (23 x 13 cm) loaf Adapted from Recipe Girl's Cheddar Chive Beer Batter Bread
Ingredients
1 tablespoon oil
1 cup sliced green onion
3 cups all-purpose flour
3 tablespoons granulated sugar
2 teaspoons baking powder
1 teaspoon  salt
1 cup grated sharp cheddar cheese
½ cup  grated Asiago cheese
One (12 fl oz/355 ml) (about 1½ cups) bottle beer (such as amber ale) *I used a can of ginger ale instead of beer
¼ cup  butter, melted and divided
Directions:
Preheat oven to moderately hot  375°F. Spray 9"×5″ (23 x 13 cm) loaf pan with cooking spray.
Heat olive oil in a large nonstick skillet over medium heat. Add green onion and sauté 3-4 minutes or until tender. Cool to room temperature.
Combine flour, sugar, baking powder and salt in a bowl; make a well in the center of the mixture. Add onion, cheeses, and beer. Stir just until moist.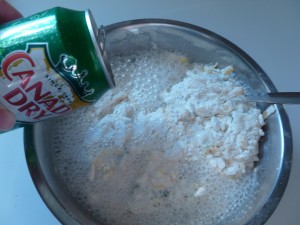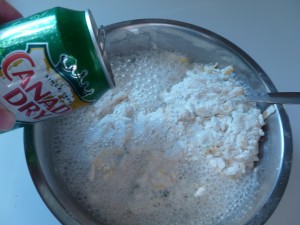 4.  Spoon batter into prepared pan. Drizzle evenly with 2 tablespoons of butter. Bake for 35 minutes; brush with remaining 2 tablespoons butter. Bake an additional 23 minutes or until wooden pick inserted in the center comes out clean. Cool 5 minutes in pan on a wire rack; remove from pan. Cool completely on wire rack.