Posted by Alessandra | Under
Chicken
Friday Jan 14, 2011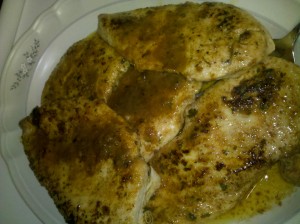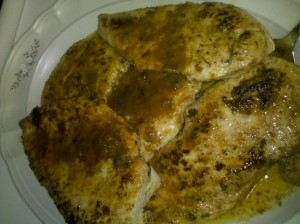 5  boneless, skinless chicken breast
For the dry mix:
1 1/2 teaspoon salt
1/2 teaspoon black pepper
1/2 teaspoon cayenne pepper
1/4 teaspoon paprika
1/2 teaspoon garlic powder
1/2 teaspoon dried parsley
Clean chicken breasts (take out the fat, or loose pieces) .  Mix the above ingredients together.  Season each breast (both sides) with this dry mix.  Set aside.
For sauce:
3 tablespoons butter
2 tablespoon olive oil
1 Tablespoon garlic powder
6 Tablespoons lime juice
In a large frying pan, heat the butter and olive oil.  Fry the chicken, about 4-6 minutes each side.  Add the 1 Tablespoon of garlic powder and lime juice. Simmer for about 5 minutes.  Stir so it coats each breast of chicken.
There will be a bit of sauce and it would be great to serve with rice and veggies.