Posted by Alessandra | Under
Brazilian Recipes
,
Rice
Wednesday Jan 19, 2011
Arroz Carreteiro is a rice from southern brasil made with left over churrasco (BBQ) meat;  usually beef and sausage.  The tradition is to make with charque, a dried meat that doesn't need refrigeration.  This way wagoners could make this meal on the go in a heavy duty iron pan.  The word "carreteiro" translates to "wagoner" or "cart rider".  For this recipe I only used sausage. I also used can tomatoes instead of fresh tomatoes.  I choose the Rotel Diced with Green Chilies tomatoes and it gave a nice spicy taste to the rice!  This recipe will feed at least 10 people. You can halve the recipe if you don't need to feed a multitude 😀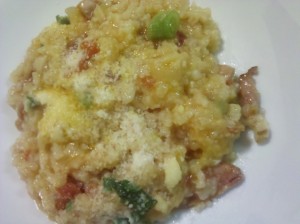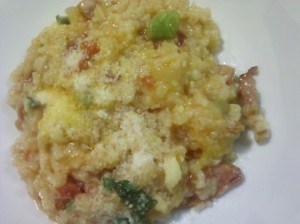 1 medium onion (chopped)
4 clothes garlic (minced)
2 T oil
5 slices bacon (sliced thin)
16 oz linguica (kielbasa sausage- sliced thin)
2 cans diced tomatoes (usually I use fresh diced tomatoes, but the can works just as well)
1 T salt
1 T black pepper
1 t beef bouillon
2 c rice
5-8 cups water
1/4 c green onion
1/2 c Parmesan cheese (shredded)
Add oil, onion and garlic together in a large pan on medium high heat until onions are translucent.  Add bacon, and sausage.
Cook until bacon is done.
Add the tomatoes (if using fresh make sure you take skin and seeds out. Use about 1 to 1/2 c of diced fresh tomatoes.) , salt and pepper, bouillon, rice.  Simmer until rice gets a nice color.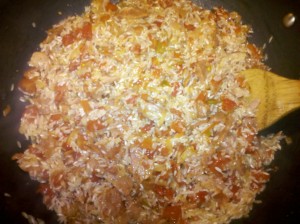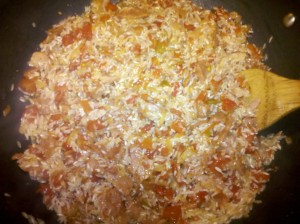 Add 5 cups water.  Taste water for seasoning. If needed add more salt.  Turn heat down to low. It will cook for about 1 hour.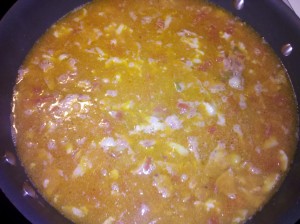 You many need to add more water as it is cooking. Usually I say DO NOT STIR THE RICE, however for this recipe you will need to.  I usually check the rice every 15-20 minutes, see if needs more water and stir it a little.   You want the rice to be soupy like, but not too wet. Keep checking and adding the water (if needed) until the rice is soft.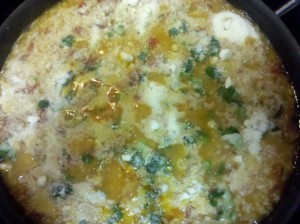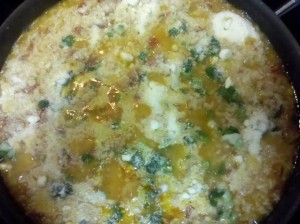 When rice is cooked add  green onions and sprinkle Parmesan cheese on top.  I like to serve some cheese on the side, so you can sprinkle on your own plate.