Posted by Alessandra | Under
Appetizers
,
Brazilian Recipes
Thursday Dec 16, 2010
This is one of the most refreshing juices I remember from Brasil.  I also love the combination of the smell of the pineapple and the mint leaves.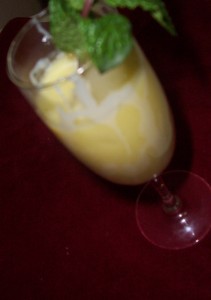 1 1/2 c pineapple cut into chunks (tip: you can freeze the pineapple and have it ready for any time you want)
1 c cold water
1 T sweetened condensed milk
2 fresh mint leaves (you can use more if you want more mint taste)
Sugar to taste (I prefer to sweetened my juice with the sweetened condensed milk. Unless the pineapple is not sweet enough, I do not use any sugar)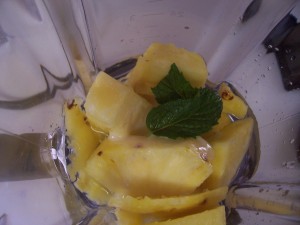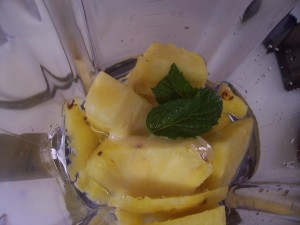 Add all ingredients in a blender, and blend until liquid.  Strain the mixture and serve.  I like to decorate the cup with swirls of sweetened condensed milk, 2 cubes of ice, then pour the juice and add a couple leaves of mint! This will make about 2 cups of juice.
So refreshing… YUM