Posted by Alessandra | Under
Brazilian Recipes
,
Pastas
Monday Nov 29, 2010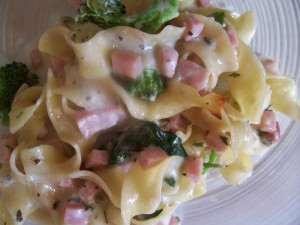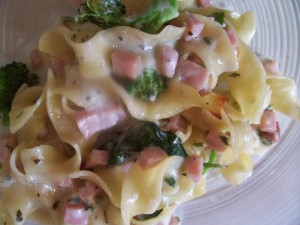 8 oz cooked pasta (I like to use a short pasta like penne, rotini, spirale or the no yolks- like the picture)
1/2 lb ham (cut into squares)
1/2 lb cheese (either mozzarella, white cheddar, swiss or a combination)
2-3 T of mayo ($1/1  Hellman's Mayonnaise)
1 t oregano
1/2 t basil
2 tomatoes (diced)
olives (optional)
broccoli (optional)
Mix the cooked pasta with the rest of the ingredients and put in a casserole dish. You can sprinkle the top with more cheese if you would like.  My family is a cheese-a-holic, so the more the merrier here at the house! Bake at 350 until all the cheese has melted, about 15 minutes.  Most the the time the mayo and the cheese is enough to make a nice creamy sauce if not add the pasta is too dry. I usually add a couple splashes of cream or milk.