Posted by Alessandra | Under
Brazilian Recipes
,
Breads
Tuesday Nov 16, 2010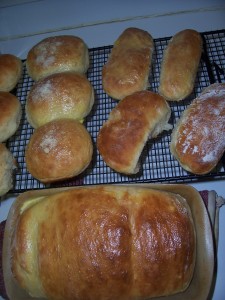 Homemade bread is one of my comfort foods. I love the smell, the texture and especially the taste.  This Wednesday is homemade bread day!  Why not make your favorite homemade recipe to celebrate this wonderful day?  I have been playing with a potato bread recipe and I thought this would be great to share in case you want to try it. In Brasil, it is very common to find Pao de Batata recheado com Catupiry (potato bread filled with catupiry-my favorite cheese from Brasil).  We were lucky to find catupiry cheese in Florida and I just had to make some potato bread to go with it! Enjoy!
4-5 medium size Potatoes
1 cup Milk
1/3 cup Butter
3 T  Honey
4-5 cups Flour (start with 4)
2 T instant dry Yeast
1 1/2 t Salt
1/4 cup Sugar
2 Eggs
1/2 cup Water (if needed)
First you want to peel and boil your potatoes. (make sure you salt the water)  Once the potatoes are soft, mash them either using a ricer, fork or food processor.
Add the mashed potatoes, milk, butter and honey into your mixer (with the bread attachment). You could mix this bread by hand as well. I used my kitchen aid mixer (also known as FRED).  Mix it for about 1 minute.  Add 4 cups of flour, yeast, salt, and sugar. Mix for a little bit then add the eggs (one at a time).  Mix for about 4 minutes and check the consistency. Here is where you will use either the rest of the flour (if dough is too sticky) or some of the 1/2 cup of water (if dough too dry).  I usually end up adding about another 1/4 cup of so of flour and 1 T of water.  The consistency will be wet, soft but not too sticky.  Let it mix for about 5-10 minutes. If doing it by hand, kneed it until soft.
Transfer the dough to a bowl drizzled with oil. Cover and let it rest until it doubles it size. It will take about 1 hour.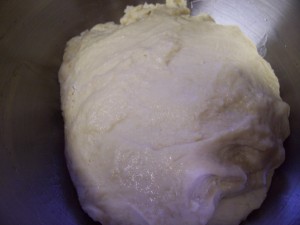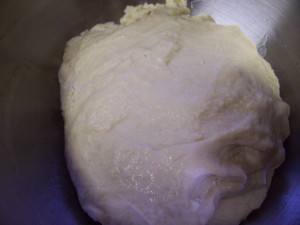 Punch the dough and transfer it to a floured surface.  Shape your bread and let is rise until double size. It will take about 30-40 minutes.  I like to make rolls filled with my favorite cheese, catupiry!  I also make loaves and hot dogs and hamburger buns.  Just let your imagination go wild! 😀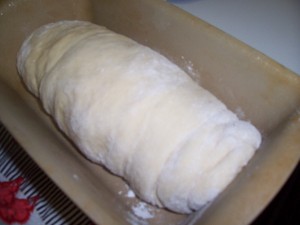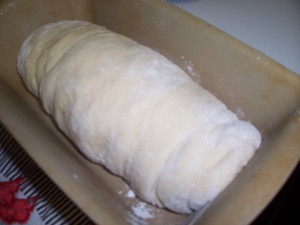 Bake for about 25-30 minutes at 350. If you like a more gold-ish brown color, use 1 egg (beaten) and coat the top of the bread before putting it in the oven.
This recipe will make either 2 loafs, or 1 loaf, 6 dinner rolls and 4 hot dog buns.
Here are the hot dog buns:
Here are the dinner rolls: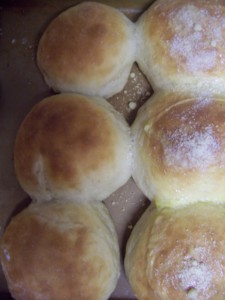 And the best for last, filled with catupiry: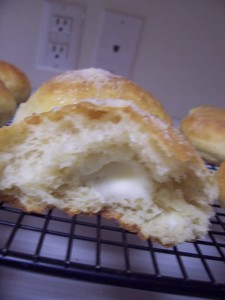 YUM!