Posted by Alessandra | Under
Beef
,
Brazilian Recipes
Friday Jul 9, 2010
I had a lot of fun at the Studio 4, Good Things Utah show today.  They are so nice and they make you feel right at home.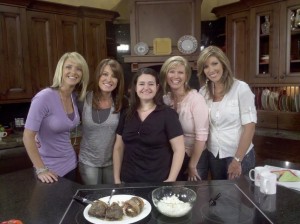 We made the Brazilian style meat loaf on the show.  It is one of the dishes I love because it is so easy to make and you can use your creativity. You can change the ingredients to your liking.  Here is the recipe:
2 lb ground beef
1 pkg Lipton onion soup mix
1 large carrot
2 boiled eggs
6-8 slices of ham
4 ounces shredded cheese (mozzarella or cheddar)
1 T mayo
3- 4 strips of bacon
Oil (just enough to spread on your hands)
Mix onion soup mix and ground beef together, set aside.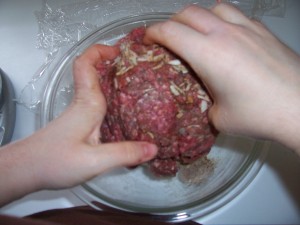 Put a large sheet of plastic wrap on the counter, and lightly coat it with oil. Then, use your hands to gently open the meat mixture. (Just like you would for thin hamburgers.) It should be shaped into a 13×18 rectangle.  You may need to rub a little oil on your hands to make it easier to spread the meat.  You want a nice thin layer.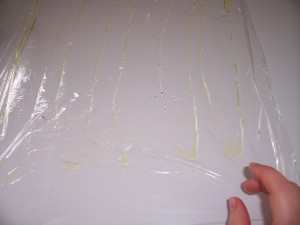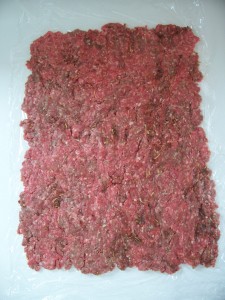 Then top it with the ham slices, carrots, sliced eggs and cheese.  Starting with the side closest to you, roll the meat. Use the plastic to help you form the loaf.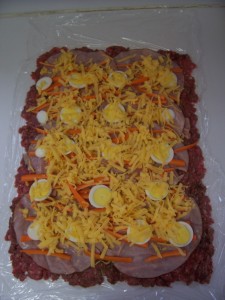 Transfer it to a cookie sheet (lined with foil).  Spread the mayo on top.  Add strips of bacon over the top, wrapping around the sides of the loaf. Bake at 350 for 40-50 minutes (or until fully cooked).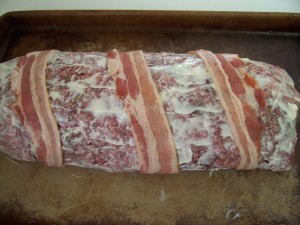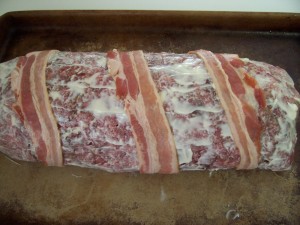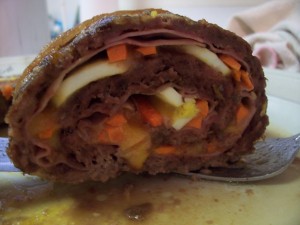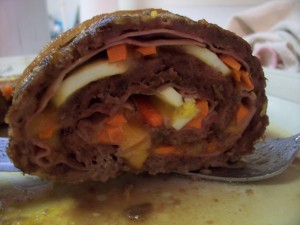 Options: You can fill the loaf with any type of fillings. Here are some ideas: Spinach and cream cheese; 3 cheeses; prosciutto artichoke hearts and brie; vegetables (green peppers, red peppers, carrots, spinach, olives); all meat (ham, pepperoni and sausage).
Another option is to use ground chicken, sausage or turkey instead of beef.
Serve options:Brazilian Rice, green salad, and/or vegetables