Posted by Alessandra | Under
Salads
,
Side Dish
Monday Jun 14, 2010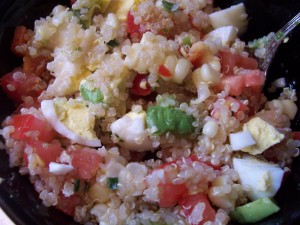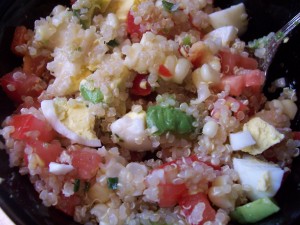 Quinoa is very healthy and I love the nutty like taste.  It is nice to have Quinoa as a salad because you can use your  imagination. This makes it easy to reuse leftovers or wherever is in the fridge to make it taste good  For this particular one I had some tomatoes, red pepper and a boiled egg (left over from another meal), so I started to put those items together until it was beautiful and colorful.
For the Quinoa:
3/4 c of Quinoa
1 t Salt
1 t olive oil
In a small sauce pan heat the oil slightly, add the quinoa and salt. Then add about 2 cups of water. Let the quinoa cook (medium heat) for about 20 minutes, covered.
You can make this ahead of time and keep it in the fridge.
For the salad:
Cooked quinoa
2 ears of corn (just the kernels)- you can use canned corn
1 avocado (sliced)
1 boiled egg (diced)
1/4 red pepper (diced)
2 tomatoes (diced)
2 T green onions (cut)
Mix it all together.  Then season it with Salt and Pepper to taste.  You can also add a little bit of lime juice and olive oil for a different taste.  My husband likes to eat this with a little bit of Italian dressing drizzled on top. I prefer without dressing and just a little squeeze of lime.  I also like to serve it on top of a nice green lettuce.
It is refreshing and it tastes very good!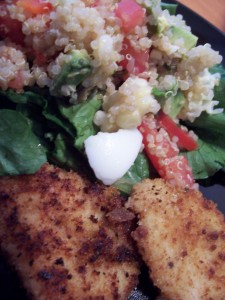 Pair this recipe with the Chicken Cutlets and you have a complete meal!