Posted by Alessandra | Under
Appetizers
,
Vegetables
Monday Jun 7, 2010
I love Artichoke and I wanted to experiment with different ways of cooking artichoke.  I tried 5 ways.  I liked them all, but I have to say my favorite was baking the artichoke.  Here is a summery of my adventures with artichoke:
Basics:  Before you start, make sure you trim the artichoke.  Cut just a little bit of the top and trim the leaves a bit. Then wash it well under cold water.  If you are going to use the artichoke as a serving dish you may also want to trim the bottom so it stands well. If you don't need it to sit then go ahead and peel the outer side of the stem. The stem is a continuation of the artichoke heart so cook it and enjoy it.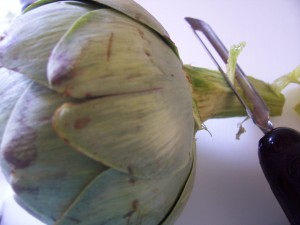 Boil:  In a large sauce pan, bring water to boil. Add a little salt and add artichoke. Cover and boil it for about 45-50 minutes.  It will be done when you can insert a knife in the bottom of the artichoke easily. If your artichoke is small, keep an eye on it. You don't want to over cook it.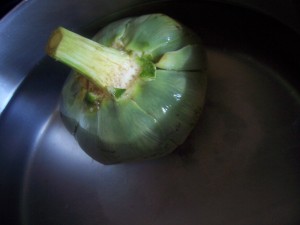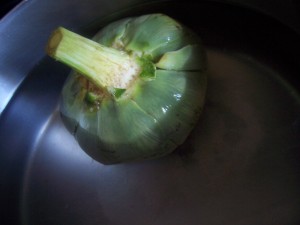 Steamed:  Just like any other vegetable. Add a little bit of water to your pan, using  a steamer, steam your artichoke until a knife can easily be inserted in the bottom of the artichoke.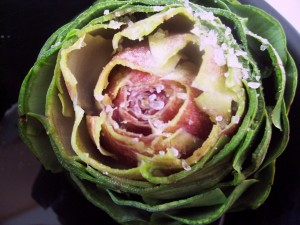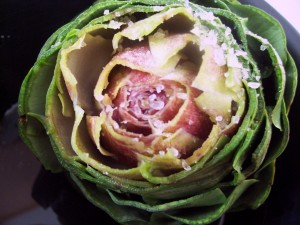 Baked:  I separated the leaves a little bit and seasoned the artichoke with 1 t rock salt, 2 t garlic powder and a little drizzle of olive oil.  Then I wrapped it in foil.  I used 2 sheets of foil to make sure it was nice and closed.  Bake in a 350 oven for about 1 hour.  It is just like baking a potato.  It will be done when a knife can go on the bottom of the artichoke with ease.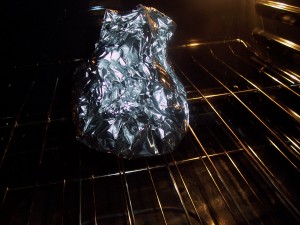 Microwaved :  Using a microwave safe dish, microwave your artichoke for about 10 minutes on high.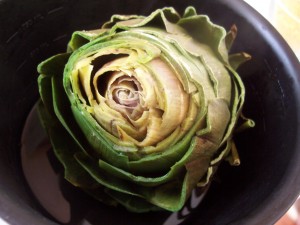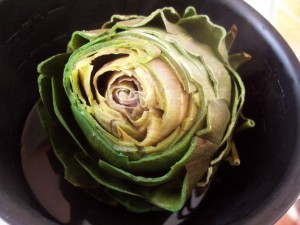 Grilled:  Cut the artichoke length wise.  Either steam or microwave it for a couple of minutes just to soften it a bit.  Take out the choke (as you can see on the picture). The choke is the fuzzy part.  Then season it (olive oil, salt and lemon juice) take it to your grill.  Grill the artichoke (cut side down) until they get a good color and are nice and tender.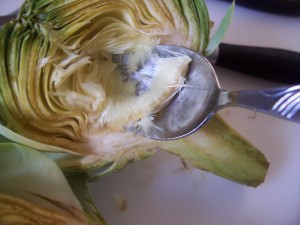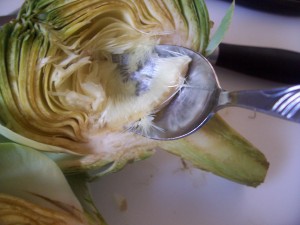 How to eat it: Now the best part right???  Serving an artichoke for company is very nice. It is healthy and it looks very fancy!  To eat it, just pull the leaves out and scrape the bottom with your teeth.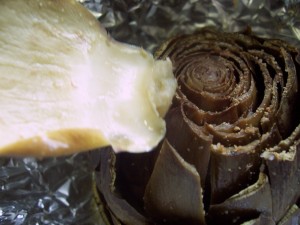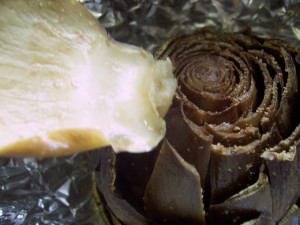 You can serve it in place of tortillas with your favorite dips, or  you can serve it with melted butter. YUM!!! It is also delicious by itself. After you are done with the leaves, you will get to the artichoke heart.  This is the middle of the artichoke. It is nice and soft. You usually see this part used in cooking.  Just take the heart out and cut it into fourths.  Then scrape the fussy part of the artichoke (called choke) and discard it.  Now you can chop the rest and use in your favorite dish. I love to add it to pasta sauces, make a hot artichoke dip or just eat it by itself. It is so good!!!