Posted by Alessandra | Under
Uncategorized
Wednesday May 19, 2010
I thought I should take a picture of a shopping trip for this week!  I will try to remember to take more pictures of my shopping trips. I am so used to coming home and putting everything away and I only remember about pictures when I have the last item on my hand to be put away.  But I remembered this time, so here it is:
This was at Smiths:
5 -pk (2) Dial Soap Bars
1 -French Mustard
2 -Cholula Hot Sauce
3 -Pkg American Cheese
1 -Double Pkg Always Pads
5- Pkg Flips Chocolate Pretzels
5- 3 Musketeers
14- Chewing Gum
1- Sandwich Thin Bread
1- Bottle of Capers
Total before my Smiths Card: $80.58.  Total after Sales, Smiths Card and Coupons: $5.61 (it was supposed to be $4.61. I had a coupon for a free Always Pad and the cashier marked the price incorrect and I didn't notice it until I got home…oh well)
That is a 93.04 % savings! WOW WOW WOW
Here is a picture: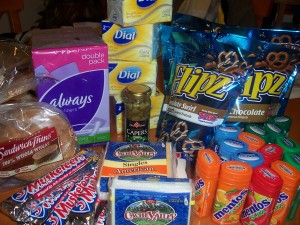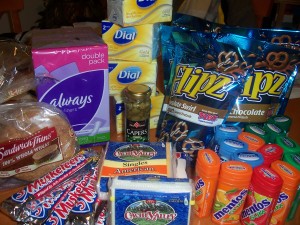 Now, I am really trying to be good and not eat so much candy and etc… Here are some things I do with the chocolate, gum, and treats I get:
I send it to my husband's work. He has a candy dish which makes his co-workers and friends happy.
I give it to friends/neighbors as a "thinking about you", "get well soon", "good luck today" type gifts. It works for many different types of occasions.
If I am asked to speak in public, I can bring treats to pass around.
I am always entertaining company. I love to have people over; so those treats are a great way to get people talking and enjoying themselves while I make dinner.
They are also great to take to peoples' home for social occasions. I have never seen anyone get upset when bringing them chocolate! 😉
Since I LOVE to cook and bake, chocolates can be used when making mousses, pie crust, mixed with cake batter and etc.
Hope this has sparked your interest and made you curious about coupons shopping!  Remember I teach classes, just contact me for a free class.  Also on the right hand  side of this page there is a link which allows you to print coupons from your computer!  You can start saving TODAY!
Enjoy