Posted by Alessandra | Under
Desserts
,
The Dairing Kitchen
Thursday May 27, 2010
The May 2010 Daring Bakers' challenge was hosted by Cat of Little Miss Cupcake. Cat challenged everyone to make a Piece Montée, or croquembouche, based on recipes from Peter Kump's Baking School in Manhattan and Nick Malgieri.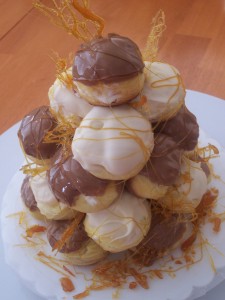 I joined the Daring Kitchen last month and have been anxiously waiting to hear what the challenge of April would be.   I was so excited to see that a Piece Montée would be my first Daring Kitchen challenge. I have always wanted to make one of these.
A Piece Montée, also called Croquembouche is a French dessert.  It is basically a montage of those delicious cream puffs.   The cream puffs  are made with Pate a Choux. (If you have never tried making Pate a Choux, try it. It is easy and delicious. You can make puffs, eclairs and let your imagination run with it.)  Then you have the filling, usually a pastry cream.  Then you have the glaze, usually sugar or chocolate.
I decided to fill my puffs with whipped cream and Dulce di Leche. Then I couldn't decide on the glaze so I thought it would be fun to do both chocolate and spun sugar.
Pate a Choux (recipe from The Daring Kitchen Archives)
¾ cup water
6 Tbsp. unsalted butter
¼ Tsp. salt
1 Tbsp. sugar
1 cup  all-purpose flour
4 large eggs
For Egg Wash: 1 egg and pinch of salt
Pre-heat oven to 425◦F degrees. Line two baking sheets with parchment paper.
Combine water, butter, salt and sugar in a saucepan over medium heat. Bring to a boil and stir occasionally. At boil, remove from heat and sift in the flour, stirring to combine completely.
Return to heat and cook, stirring constantly until the batter dries slightly and begins to pull away from the sides of the pan.
Transfer to a bowl and stir with a wooden spoon 1 minute to cool slightly.
Add 1 egg. The batter will appear loose and shiny. As you stir, the batter will become dry-looking like lightly buttered mashed potatoes.
It is at this point that you will add in the next egg. Repeat until you have incorporated all the eggs.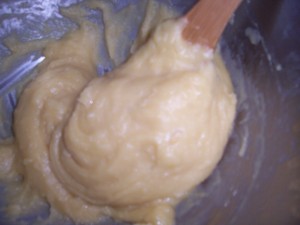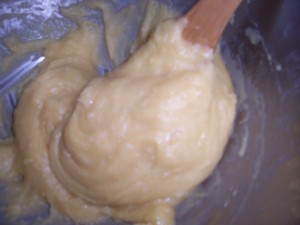 Transfer batter to a pastry bag fitted with a large open tip (I piped directly from the bag opening without a tip). Pipe choux about 1 inch-part in the baking sheets. Choux should be about 1 inch high about 1 inch wide. Using a clean finger dipped in hot water, gently press down on any tips that have formed on the top of choux when piping. You want them to retain their ball shape, but be smoothly curved on top.  Brush tops with egg wash (1 egg lightly beaten with pinch of salt).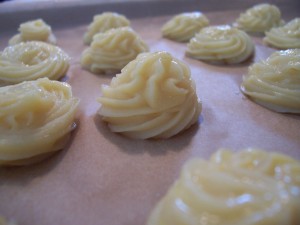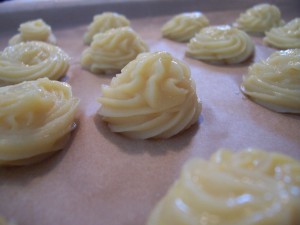 Bake the choux at 425◦F degrees until well-puffed and turning lightly golden in color, about 10 minutes.
Lower the temperature to 350F degrees and continue baking until well-colored and dry, about 20 minutes more. Remove to a rack and cool.
Can be stored in a airtight box overnight.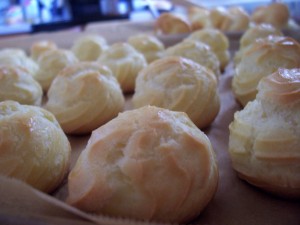 I used a pastry bag with a star tip and filled some of them with Dulce di Leche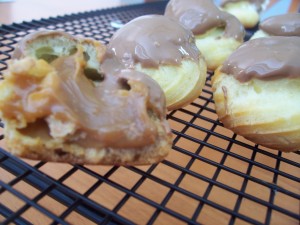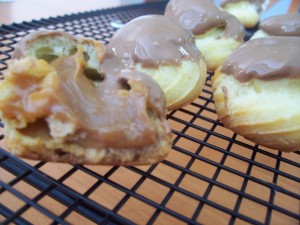 some with whipped cream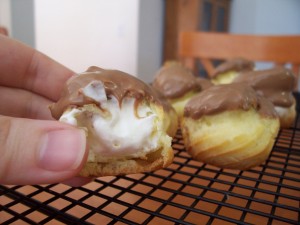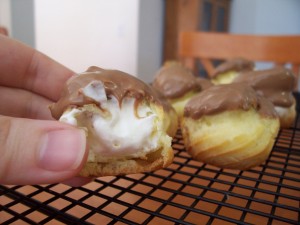 Then I dipped them in chocolate (milk and white) and here is a picture of the tower 😀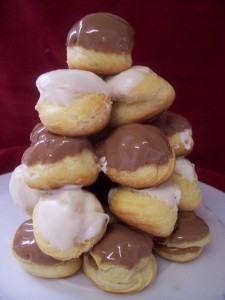 I had never done spun sugar before and it was an interesting project. Fun though… I decided to decorate my piece with sugar art and some spun sugar.