Posted by Alessandra | Under
Brazilian Recipes
,
Rice
,
Side Dish
Monday May 24, 2010
Brazilians eat rice pretty much every day. I can say that rice is the most staple food of Brazil.   I also love it because a basic recipe like the one I will post here can be turned into so many dishes.  I like products like that because you can let your imagination run wild!  If you keep checking back you will see I will come back to this basic recipe many times during my blog adventure.  If you want to read more about rice, check out Wikipedia.  They have some great facts on rice!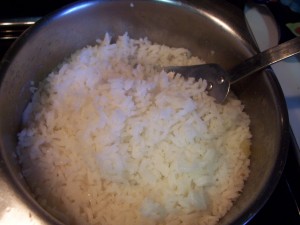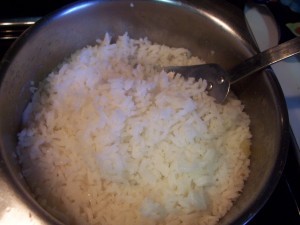 1 c long grain white rice (you can substitute with other type of rice)
2 T minced onion
1 clove garlic, minced
2 T vegetable oil (I use olive oil)
1 1/2 t salt
4 cups water (about)
Place the rice in a colander and rinse thoroughly with cold water; set aside. Heat the oil in a saucepan over medium heat. Cook the onion in the oil for one minute. Stir in the garlic and cook until the garlic is golden brown. Add the rice and salt and stir until the rice begins to get translucent.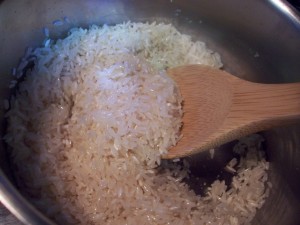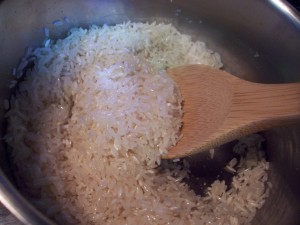 Pour water over rice mixture so the water level is 2 fingers higher than the rice (*do not stir the rice after adding the water)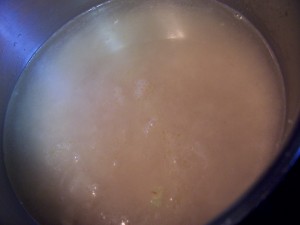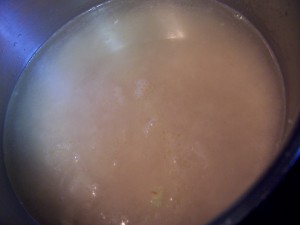 Reduce heat to medium-low, cover the saucepan, and allow to simmer until the water has been fully absorbed, 20 to 25 minutes.
If you are going to make brown rice make sure you let it cook for at least 45 minutes. You might need to add a little bit more water when the water starts to evaporate, but do not stir the rice! Just add a little water if the rice still hard.  When the rice  is almost soft you can turn off the heat, cover and let it sit for a while.
I really like brown rice. It is healthy and I love the nutty taste. It does take a little while to cook, but if you plan ahead you can make your rice, cook for the 30-45 minutes required then cover it and forget about it. It is easy and worth the wait!
You can also freeze the cooked rice (individual portions, or big portions). Like I said before, I love brown rice, but my husband doesn't as much of it. So when I make white rice or brown rice, I will make a big batch and freeze individual portions of it. That way if I am serving rice I have his white rice ready and just need to make my brown. Or vice versa.
*if you stir the rice too mush, it won't be nice and loose. It will form clumps together, which we in Brasil refer to as "arroz unidos venceremos" = "together we win"  🙂 I only like this type of sticky rice when making Japanese food, otherwise I like my rice nice and fluffy.