Posted by Alessandra | Under
Uncategorized
Monday Apr 5, 2010
Last Tuesday, the Tast of Home Cooking School came to Provo. It was a fun show!  I got to help out in the back with the kitchen preparations!  Wow, I never knew how much work it takes to get it all set up! 
There were 10 recipes we had to prep for the show.  We had 4 wonderful helpers back in the kitchen for the prep time and in the evening (during the show) there were 5 of us plus the chef! 
The recipes were amazing!  Here are some fun pictures of the backstage "action"!
Each one of us was put in charge of a few recipes to prep before the show.  This picture shows the Gram's Chicken Pot Pie being prepared.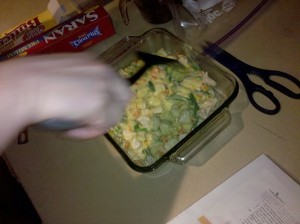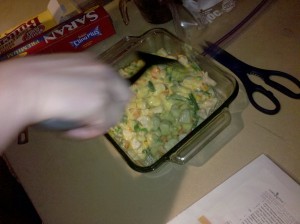 Each recipe had a tray with all the ingredients and cookware that were necessary to use during the show.  Here is a picture of some of the trays: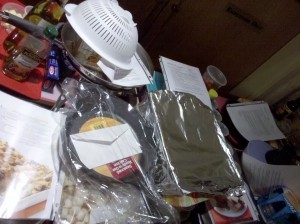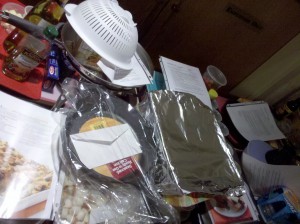 You can see that in some trays there are gifts ! Fun huh, those are gifts that were given out during the preparation of that recipe! It really is a fun show!!!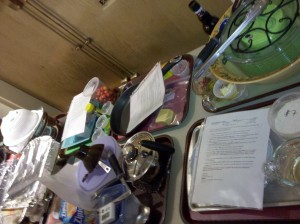 That is me, separating eggs!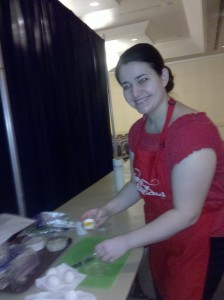 This was at night, during the show! Cooking in the background.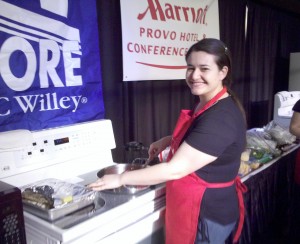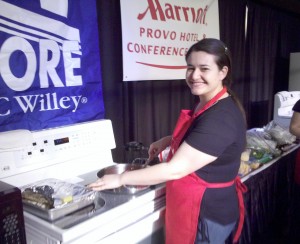 We were very busy during the show and I forgot to take pictues of the finished dishes….ops!  But don't worry I will prepare each one of them and post pictures here just after their Spring show season is out! There are some delicious dishes!!! Yum Yum. If you have a chance to attend one of the Taste of Home Cooking School  go for it. They are a lot of fun!
Here is the cart FULL of groceries, how much do you think the Savvyshopper Amy paid for all of them?????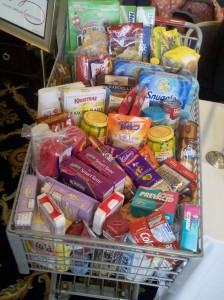 The products were worth $286.00 and the total price after coupons was : $8.36.  WOW!!! I know, you can do that too.  I love using coupons.   Contact me and I will teach you how to use coupons, save money and have fun!