Posted by Alessandra | Under
Brazilian Recipes
,
Main Dish
Wednesday Apr 14, 2010
This is a favorite at our house. It is so easy to make and it looks like you spent hours making it.  😉
1.5 lb sliced ham (ask them to slice it thin)
1 lb sliced cheese (I like Swiss, but any cheese will work)
1 box angel hair pasta (cooked al dente)
1 T olive oil
salt and pepper
1/2 c shredded cheddar or parmesan
Spaghetti Sauce
Alfredo Sauce
Cook angel hair pasta as directed on the package.  Just make sure cook it al dente. Drain the pasta and add the olive oil , salt, pepper and the 1/2 c shredded cheese.
Take one slice of ham, top with one slice of cheese and  a little of the pasta.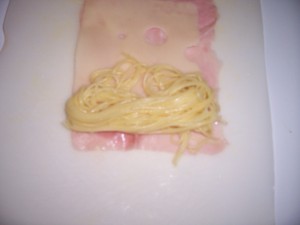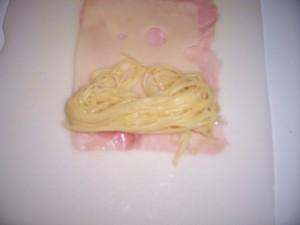 Roll it tight and cut the roll in half.  Stand them cut side up and put them into a casserole dish that has been lined with a little bit of the spaghetti sauce (only 2 or 3 tablespoons)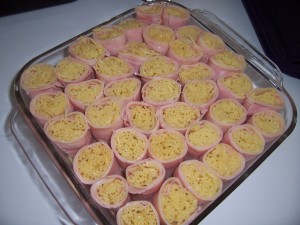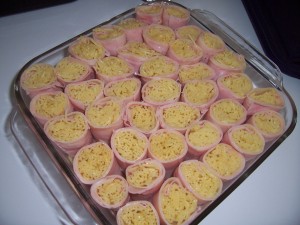 Keep making rolls until you fill your dish.  Top with Spaghetti sauce and Alfredo sauce. Bake at 350 until it is nice and bubbly. About 30-45 minutes.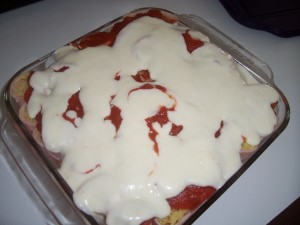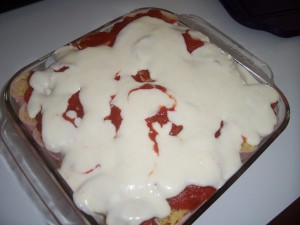 I usually have some ham and cheese left over.  It all depends how thin the store will slice them for you. I ask them to slice it thin (both the ham and the cheese). They need to be thin enough to be able to roll well, but not too thin that they won't hold the pasta inside.