Posted by Alessandra | Under
Brazilian Recipes
,
Breads
Thursday Apr 8, 2010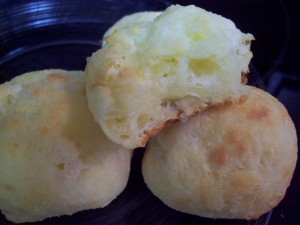 This is a traditional bread we make in Brazil. We use Polvilho to make it.  Polvilho is basically tapioca flour/starch. You can  purchase tapioca flour at the health food store in bulk. You can also find small bags at the grocery store in the health food aisle.  Now all I have to do is try with different cheeses. This bread is very good warm.  It is also yummy to cut it in half and make sandwiches or even add a little bit of butter! YUM 🙂 Enjoy!
1 cup whole milk
½ cup water
4 T. butter
1/4 cup oil
1 t salt
2 ¼ c tapioca flour
2 eggs
1 ½ cup shredded cheese*
¼ cup Parmesan
Boil milk, water, butter, oil and salt.  Take off heat and add flour.  Mix well. It will be clumped together.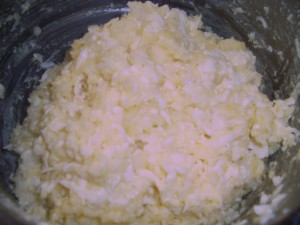 Add eggs (one at a time) Mixing well after each egg.  Add the 1 1/2 cups of cheese and the Parmesan cheese.
Let mixture cool a little bit. Roll into balls.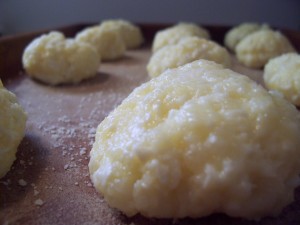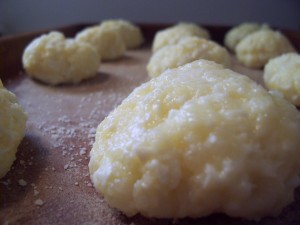 Spray a cookie sheet with oil or butter, and bake at 350 for about 30 minutes or until golden on top.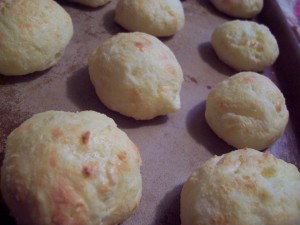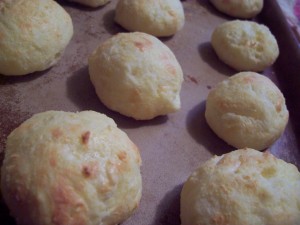 *I used a white cheese called queso panela (pan cheese)- I bought it at Sams. It will also taste very good with a Cheddar, Colby  or even all Parmesan. I do like to mix the cheeses.  I also used a Spanish cheese called Cotija, instead of the queso panela. It was good.
Another thing I noticed is that depending on the tapioca flour you use, you may need to add a lot more flour to get to the correct consistency.  I have a reader say they added an extra 1 cup of flour. I bet this has to do with the temperature, altitude and flour consistency.  Let me know if you have questions.