Posted by Alessandra | Under
Desserts
Wednesday Apr 28, 2010
This is one of my favorite "easy-to-make-in-a-pinch" recipes. It tastes good fresh and even better the day after!  It also freezes very well (up to a month) without the glaze. Enjoy!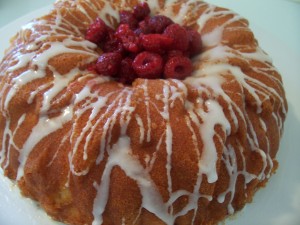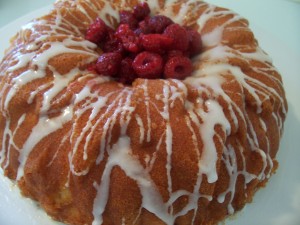 Adapted from America's Test Kitchen
2 sticks of unsalted butter
1 3/4 cups flour
1/2 teaspoon baking powder
1/2 teaspoon salt
1/4 cup sour cream
2 tablespoons lemon juice
1 cup granulated sugar plus 2 additional tablespoons
5 large eggs (room temperature)
Syrup
1/4 cup granulated sugar
1/4 cup lemon juice
Glaze
1/2 cup Confectioners' sugar , sifted
1 tablespoon lemon juice
For the cake:
Grease and dust a bunt cake pan. Sift the flour, baking powder and salt.  Set aside.  Mix the sour cream and the lemon juice and set aside.
In a mixer, add butter and sugar. Mix it together until nice and fluffy. It will take about 3 minutes (it depends on the mixer).  You may have to scrape down the sides of the bowl while it mixes.  Slowly add the eggs, one at a time letting it mix very well.  With the mixer on low, add 1/3 of the flour mixture, and 1/2 of the sour cream mixture.  Repeat, ending with flour mixture.
Pour into prepared pan and bake at 325 for about 55 minutes.  It might need some more time. To check, insert a tooth pick into the middle of the cake. If it comes out clean, it is done.
For the syrup:
Mix together the sugar and lemon juice in a sauce pan. Let it simmer until all the sugar dissolves and liquid is a little thick. It will be a thin syrup.  When cake is done, let cake cool in the pan for about 10 minutes.  Then poke small holes on the cake (with a fork or toothpick) and drizzle about half of the the syrup, turn the cake into a platter and do the same to the top of the cake.
For the glaze:
Whisk powder sugar and lemon juice until it is a thick (but runny) glaze. Sometimes I add just a little bit of water until it comes to the right consistency.
After the cake is nice and cooled to room temperature, drizzle the glaze on top and side of the cake.
This cake is even better the day after it is baked.  It is a nice dessert to make ahead of time.  I like to decorate it with some raspberries on top.  It is a good combination!