Posted by Alessandra | Under
Uncategorized
Friday Mar 12, 2010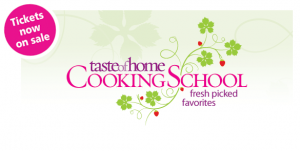 What a fun opportunity!  Taste of Home Cooking School is coming to Provo
March 30th (Boutique opens at 4:00 pm, cooking school starts at 7:00pm) at the Marriott Hotel 101 W 100 N Provo.
You get a special gift bag, door prizes; watch a fun cooking demonstration, full of great tips!
I had a blast at the last one I attended!  Don't miss out!!!
Go to http://www.heraldextra.com/app/tasteofhome/ to order your ticket! or send me an e-mail and schedule a coupon class with me and get your tickets FREE 😀  I will give you 2 tickets for hosting a coupon class!  What a great deal 😀
See you there!