Posted by Alessandra | Under
Brazilian Recipes
,
Desserts
Thursday Mar 18, 2010
I grew up inside of an ice cream factory… and by that I mean our family business was making ice cream! My parents have been making ice cream in Brazil for about 30 years now.  We had this "pie" that we used to make called "Torta de Sorvete" this one is similar to that, but I added a slice of pound cake hence the name Ice Cream Cake 😀  I hope you love it as much as I do!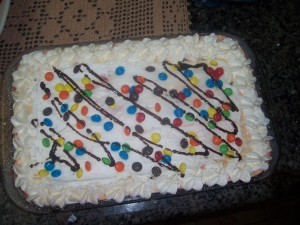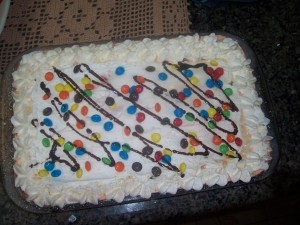 Ingredients:
2 to 4 flavors of your favorite Ice Cream and/or Sherbet.  (I like using at least one flavor that is not as sweet, like pineapple or lime)
1 small Pound Cake (sliced thin)
1 cup Heavy Whipping Cream
2 T. Powder Sugar
Nuts (as you like it)
Candies (as you like it)
Ice cream Syrup
Fudge
The way you make is very open to changes and to your imagination. You do want to follow these basic steps:
First you layer one of the ice cream flavors on your dish. If you let your ice creams melt a little it will be a lot easier to spread it on your pan.
Next Layer it will be your syrup (any flavor) and/or fudge
Next you sprinkle some candies or nuts: I like to use MMs, chopped pecans, marshmallows, oreo cookies, pretty much anything you like
Then you have a choice you can either repeat this one more time, ice cream, syrup, candy or you can skip and add your thin sliced cake. I will see how tall my pan is and see if it will be tall enough to hold more layers or not.  You want the cake to be on the middle of your layers. So it will end up being 2 ice cream layers, cake, 2 ice cream layers OR 1 ice cream layer, cake, 1 ice cream layer.  Keep doing  your layers  until you get to the top of your dish.
Decorate with whipped cream. (in your mixer, mix 1 cup of heavy whipped cream and 2 T powder sugar until nice and fluffy) Put the pie/cake  in the freezer.
Before serving you might want to take it out of the freezer for about 10 minutes to it is easier to slice.  Enjoy 😀
Make sure to go here: Blue Bunny Coupon to get $1 off blue bunny ice cream 😀