Posted by Alessandra | Under
Chicken
Thursday Mar 4, 2010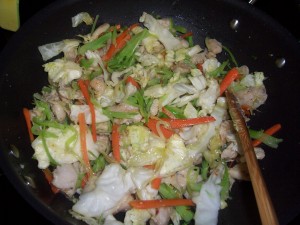 This is an easy recipe that you can use leftover meat, vegetables and make it delicious!
For this one I used:
2 Chicken breasts (cut into squares)
1/2 Onion cut
Salt and Pepper
1 t Sesame Oil
Vegetables (use ones you like) I used chopped carrots, sliced cabbage and broccoli juliennes.
1 t ground ginger
2 t soy sauce
Sauté Chicken with sesame oil , onion, salt and pepper. Set aside.  Sauté each vegetable separately. Set aside
After you have sautéed all the food, mix them all together with the ginger, soy sauce and seasonings if needed (salt, pepper, hot pepper)
Serve on top of rice or pasta.
Other options: instead of using the soy sauce you may use another type of sauces.  Sweet and Sour, Peanut sauce, Teriyaki and Orange sauce are good examples and they go well with the dish. (Keep coming back for sauce's recipes)