Posted by Alessandra | Under
Desserts
Thursday Feb 4, 2010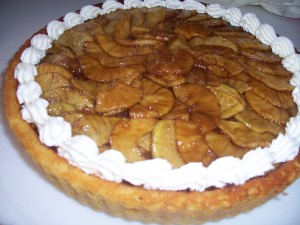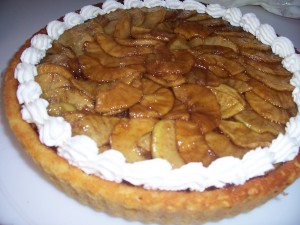 Ingredients:
1 box yellow Cake mix
1 t Cinnamon mix (I used the pampered chef or you can use just normal cinnamon)
½ c Sour Cream
 Mix the cake mix according to directions on the package.  Then, add the cinnamon and the sour cream. Divide batter into Pampered Chef's torte pan set.(you can use any cake pan).  Bake your cake. Let the cake rest in the pan for about 10 minutes after you remove it from the oven. Invert it to a platter. (NOTE: Most cake mixes will make two cakes. One cake is required for this recipe. You can do something different with the second cake or freeze it for a rainy day.)
 Filling/top
 Ingredients:
4 Apples (cored, peeled and sliced)- I use the apple peeler/corer/slicer machine from Pampered Chef
3 T Butter
2/3 c Brown Sugar (might need a little more depending on how tart the apples are)
1 t Cinnamon
Pinch Salt
Pinch Nutmeg
Squeeze of Lemon juice
 Add butter and sugar into a skillet and cook until sugar is melted and mixture is hot.  You may need to add a little splash of water to soften the sauce.
 Add to the mixture in the skillet the apples, cinnamon, salt, nutmeg. Squeeze the lemon (just a little) so juice drips on top of the apples. Let it cook until apples are soft but still holding their shape.  (About 10+ minutes).  Let it cool a bit. (there will be a lot of sauce)
 Poke little holes on the cake (with a fork).  Drizzle about 4 Tablespoons of the sauce on the cake. Then start layering the apples side by side, until all the cake is covered with the apples.
 Drizzle a little more of the sauce on top (not too much or it will be too sweet). You can always serve the sauce on the side.
 Decorate the sides with whipped cream (1 c heavy Cream, 2T Powdered Sugar, ½ T Vanilla).
 Options:  Try with chocolate cake, pears instead of apples, add a vanilla pudding on the cake before putting the layer of apples (you can even use the other ½ of the cake and make the pudding, apple filling, then decorate the top of the 2nd cake- so it will be cake, pudding, apples, cake)