Posted by Alessandra | Under
Beef
Wednesday Feb 17, 2010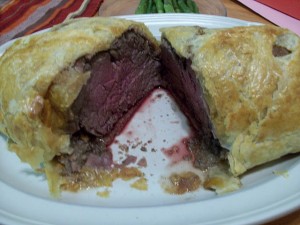 2-3 Lb Beef tenderloin
16 ounces of mushrooms
4 slices Prosciutto
Mustard for brushing meat
1 puff pastry sheet 
1 egg
2 Clove garlic, crushed
1 Onion, diced
Salt and pepper
Olive oil
Parsley
Sear beef- seasoned with salt and pepper and slightly fry it on top, bottom and sides. (not to cook, only to give color)
Set beef aside to cool  for about 10 minutes
Make the mushroom paste:
Heat some olive oil in a sauce pan, add onions, garlic and cook for a bit. Then add mushroom. Let it cook until all the mushroom water evaporates. Add parsley and seasonings (salt/pepper)
Take mushroom to the food processor, process just a bit.
Assemble:
For individual Wellingtons:  Open the puff pastry, spread a little bit of mustard on beef fillet, place it on the middle of pastry.  Top fillet with the mushroom stuffing.  Wrap fillet with the Prosciutto (side and top).  Season with a little salt and pepper.  Then wrap the pastry tucking in the sides – cut extra dough. (can brush with egg wash to help dough stick). Glaze with egg wash.
For big Wellington: Use a film paper, line the Prosciutto on it, then top Prosciutto with mushroom mixture, then put the beef (spread a little mustard on the meat) on the center and roll with help of the film paper. Very tight.  Chill for 20 minutes.  Then open pasty put the rolled beef (without the plastic) in the middle.  Make sure to egg wash the pastry so sides stick together.  Chill for 5 minutes.  Glaze with egg wash and bake.
Baking: 
 Put Wellington in a baking dish (spread olive oil in the bottom of dish).  Bake it at 350 for about 30-40 minutes for medium rare. (145 °F in the center of meat)  Rest for about 10 minutes before cutting it.